New to the Circle: Composers Concert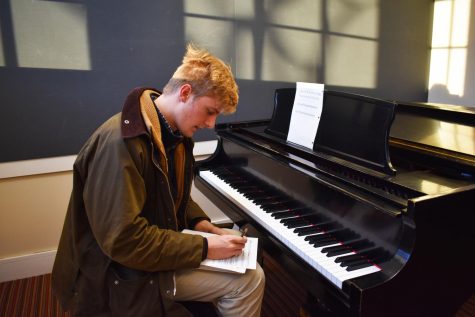 Coming up on March 2 is an exciting new opportunity: the Composers Concert, an idea conceptualized and now realized by music prefects (Josh Guo '20, Alex Schade '20 and Chioma Illozor '20), student composers (Andrej Klema '21, Jane Park '21, Obinna Nwaokoro '21, Jasmine Garcia '22, Griffin Elliot '22 and Creed Bellamy '22 in addition to the three aforementioned prefects) and Director of Instrumental Music Mary-Ann Lanier. It will be a night for students to enjoy the original music created by their peers and for composers, some veterans and some just venturing into the field, to see their work come to life before a full audience.
As Josh explained it, performing a student-composed piece is the moment when everything comes together and the music comes to life.
When describing the process and inspiration behind the event, Ms. Lanier compared musical composition to writing. She wants to unveil the seemingly elusive act of composition and to see students experiment with a new side of music. Her goal for the concert is to encourage students to perceive writing music not as "something mysterious that only certain people can do," but instead something that everybody can experience and try out. 
Every student composer has their own unique type of inspiration and process. For example, although Jasmine and Andrej both regard their music as "a way to filter emotions" and to send messages to listeners, Andrej uses computer programs to compose, while Jasmine uses live instruments. Griffin said that he first fiddles around with notes on the piano, but when he finds something interesting, he starts to add a more personal touch into the music. 
For Chioma, "composing music has always been more than a hobby… It's an activity that has always made me genuinely happy." 
Chioma is also fascinated by the idea that her music could move her audience. While she has used music streaming platforms like Spotify to reach a wider audience with her Pop/Indie/R&B music, she feels her more formal choral arrangements are better fit for a live audience and will debut at the Composers Concert.
But, even though each composer is inspired by different things and wants to get unique messages across, they all agree that composing music is something that comes from the heart.
The composers and Ms. Lanier encourage the audience to approach the event with an open mind and a willingness to engage with student-produced music. With the possibility of the concert becoming an annual event, the audience will play a large role in the success of the concert and will allow the compositions to come to life.
Leave a Comment