How to Get to Carnegie Hall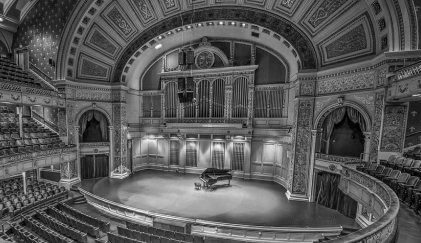 It's a classic New Yorker joke: on the intersection of 57th Street and Seventh Avenue of New York City, a man asks a passerby for directions. He asks, "How do you get to Carnegie Hall?" Upon closer examination, the passerby turns out to be Jascha Heifetz, acclaimed violinist and virtuoso, who answers the man with a single word: "Practice." 
Located in Midtown Manhattan, Carnegie Hall is the epicenter of the classical music scene. The world's most acclaimed musicians are no strangers to Heifetz's words of advice, loving and practicing their craft to a point where the glowing stages of Carnegie Hall invite them for their prestigious "Carnegie Debut."
However, the professional resume topper of someone's "Carnegie debut at age X" has turned into a common stamp of achievement among young classical musicians. The "Carnegie Debut" is now a highly accessible, heavily flaunted experience pushed onto music resumes, college applications, and even conversations for bragging rights. How did this happen? How did hundreds of nine-year-olds find their way to Carnegie Hall?
The blunt answer: money. 
Carnegie Hall has been available for rent since its opening. To this day, the performances at Carnegie Hall are a combination of the organization's professional concert series along with shows put on by outsiders renting the space –– and those outsiders didn't need to do anything to get their fingers onto Carnegie's glossy Steinway pianos besides have cold, hard cash. The auditions, invitations, and practice? Not necessary. Heifetz told that man the lengthy, winding route. 
"Played at Carnegie Hall" also is loosely defined. This statement paints a luxurious scene: an enormous stage lit with warm lights built above a sea of scarlet velvet seats under a crystal chandelier. But image is true only for those who perform in the most historic performance space in Carnegie Hall: Isaac Stern Auditorium. However, renting out this space is incredibly expensive, the base rate at around $14,000 per night. Seating 2,804, the grandiose Stern Auditorium is not rented by individuals looking for their "Carnegie Debut," but by acclaimed musicians during Carnegie Hall's professional season.
A solution to buying the bragging rights of Carnegie Hall lies in the humble performing space of Weill Recital Hall. Seating 268, Weill provides a less intimidating, affordable version of the "Carnegie Debut," with its rental base rate at $1,750. Cheaper, smaller, but still in "Carnegie Hall," Weill is the perfect location for a debut. If you take a look at Weill Recital Hall's concert season, you will find multiple dates booked for student performers.
Besides masterclasses and amateur orchestra concerts, the Weill Recital Hall season includes the "Winners Recital." These recitals offer musicians who place at classical music youth competitions, such as American Protégé, Manhattan International Music Competition, and Golden Classical Music Awards, the chance to perform at Carnegie Hall. 
To play at one of the treasured "Winners Recitals," players must pay a fee of $380 for a strict slot of 5 minutes. Want to play a different piece from the one you submitted for the original competition? That's going to be $55. It's going to take more than five minutes? Each extra minute will be another $100. With each of these recitals packed with around 40 performers and performances trailing on for three hours, these recitals are far from the praised image of one's "Carnegie Debut."
My Carnegie debut was at nine when I earned honorable mention for one of these recitals. Back then I was more oblivious to the nature of the competition and felt a small jump of glee at the news that I was going to the esteemed Carnegie Hall. Backstage in my poofy white dress, I felt my fingers shake as I fingered my violin strings in stress. When it came time for me to play, my tiny feet could barely me onstage. The audience looked so dark against the glaring stage lights, and I began to play. I was young, but even then I felt the musical magic of Carnegie rush through me.
Last year, I went to Carnegie Hall again as a first prize winner among many other first prize winners. Weill had lost so much of its magic. I noticed the irate tone of the stage managers when I played 30 seconds over during dress rehearsal and, when I walked out to perform, the stage seemed a lot tinier under my feet and I spotted the face of my mother in the audience. After I finished playing, I returned to my hotel dissatisfied. As I grew older (and started to notice the dollar signs behind the warm photographs of the Carnegie Hall debut performances) the magic of Weill faded. 
So how did I get to Carnegie Hall? Some strange combination of practice, money, and an organization whose website is adorned with fancily dressed children. The answer to the classic Carnegie Hall joke may not ring so true after all.
While you're in the practice rooms waiting for an invitation to play at Carnegie Hall, you may want to start saving up some dollar bills too. 
Leave a Comment