Celebrating MLK Day: Julie Lythcott-Haims on Being a Real American
On January 20, the Groton community celebrated Martin Luther King Jr. (MLK) Day. Rather than attending classes, students had the opportunity to watch student performances and listen to Julie Lythcott-Haims, the New York Times bestselling author of How to Raise an Adult and Real American: A Memoir. Following the morning program, students split into discussion groups with their respective forms and participated in various activities relating to self-discovery and identity.
Planning for the day started last September when Cultural Alliance advisor Carolyn Chica and student leaders Hutshie Faugas '20 and Leah Pothel '21 collectively began discussing their goals for the year and MLK Day, which include promoting inclusivity and facilitating conversation within the community.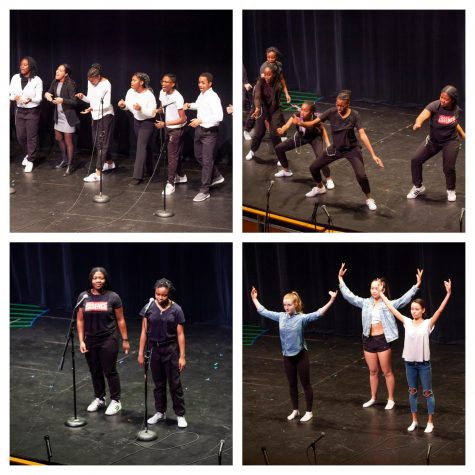 This year, the Cultural Alliance also met with Jewish, Christian, and Buddhist leaders on campus to further discuss how they could draw from MLK's philosophy as it relates to faith. 
Rather than attending workshops led by peers and teachers, students held form-wide conversations and participated in activities ranging from community service to reflective group projects. 
Leah said, "It took a fair amount of time to schedule the day; since we changed it up this year and hosted form discussions rather than workshops, we had to plan new and separate activities for everyone." 
Although the afternoon program changed, Cultural Alliance kept the morning service of student performances and a guest speaker the same.
This year, the Cultural Alliance invited renowned activist and author Julie Lythcott-Haims to speak. After hearing Ms. Lythcott-Haims at Andover last year, Director of Diversity and Inclusion (D&I) Sravani Sen-Das encouraged Ms. Chica and the Cultural Alliance to consider her for the 2020 MLK Day speaker. 
When speaking to the Groton community, Ms. Lythcott-Haims vividly conveyed her struggles growing up as a multiracial female in America and her consequent path of activism and self-discovery. 
Reading excerpts from her memoir Real American, she recalled instances in her childhood of racism and related her life story to the shape of an introverted arc, describing her steady decline as she grappled with the reality of racism in America and her growth into an advocate for youth and people of color. 
In a student survey following the talk, most students classified the talk as engaging, and over half stated that she introduced new ideas and made way for further conversation. According to the survey, many found her to be "brutally honest" but "eloquent" and were impressed by how "unbelievably genuine she was." Students further appreciated how she was able to speak from personal experience and "how she told her story unabashedly and shared her own emotions as well as the plot." 
Following the talk, forms participated in their own activities and discussions regarding race and inequity. 
In past years, Cultural Alliance has hosted a variety of student-designed, mixed-form workshops. This year, the new format "provided an opportunity to account for maturity levels and create familiarity with different topics," according to Ms. Chica. 
Second formers offered their services at local assisted living centers and conducted interviews focused on American identity. Eleanor Taggart '24 spoke with a Japanese woman named Akiko who had immigrated to the United States during the era of segregation and was surprised by the overt racism towards black people she observed. 
The conversation ultimately highlighted for Eleanor that "the prejudice against them during that time was solely based on the color of their skin, even if they were Americans, and had been for generations." 
 After hosting interviews, the second form discussed their work and began an ethnography project in pairs.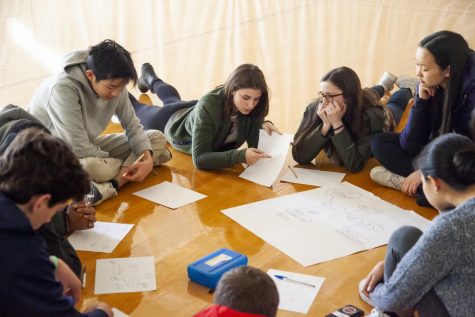 Third formers participated in a silent workshop, in which leaders asked questions regarding identity and culture; those who felt they identified with the prompt stood up to convey that aspect of themselves. They also created a molecule drawing of their eight core cultural identifiers.
The fourth and fifth formers both watched True Justice –– a documentary on the grim history of mass incarceration in the United States. Following the film, they split into discussion groups led by D&I student leaders. To conclude the day, both forms did a reflection activity in which leaders read prompts (such as "someone who inspires you") and students tapped those on the shoulder to whom they felt the prompt related. 
According to Aine Ley '22, it was "a fun way… to make people feel appreciated and also to be reminded of how the little things we do impact one another."
Meanwhile, the sixth form had the opportunity to hear from a panel of four alumni who discussed the culture surrounding diversity and inclusion during their time at Groton as well as their transitions into college and the workforce. 
"It was nice to have exposure to Grotonians in the real world and to hear what the transition was like away from school," Teddy Carlin '20 said. 
The seniors concluded with a fishbowl activity in which students stepped into a circle of people to talk about how a cultural identifier, like race or gender, affects their lives.
At the end of the workshops, Leah said, "The day was fulfilling… I think that we exposed people to new topics and perspectives, which helped start conversations, and in the end that's all we could really ask for." 
Ms. Chica added that "we may try this format again, or go a different direction. There is a lot of freedom in keeping an open mind as it relates to the day's structure.
Ultimately, MLK Day offered the community the chance to recognize and discuss the racial inequality still present within our society, and to appreciate the courage necessary to lead us along the path to justice and equality. 
As Ms. Lythcott-Haims advised us, "When we tell our stories… that is when we are vulnerable, that is how we connect, that is how we bond, and that is how we move our human society forward."
Leave a Comment