Maineland: Film Insight into Boarding School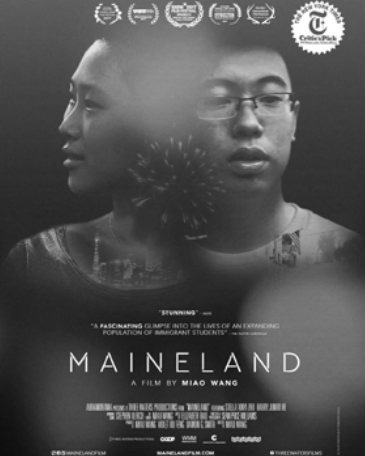 Imagine traveling across the world into an unknown culture during the most rapidly changing time of your life. More specifically, imagine going from mainland China to Maine. In the documentary Maineland, directed by Miao Wang, two students from mainland China embarked on a life-changing experience to attend one of the oldest boarding high schools of the country, Fryeburg Academy. On Sunday, January 19, several Groton students had the opportunity to experience  Maineland's film screening at Governor's Academy. 
The two "stars" of the film, Stella and Harry, were both raised in wealthy Chinese families and shared a  popular Chinese view that America is the direct path to success. At the beginning of the documentary, Harry's father reminds him of his responsibilities as the oldest son of the family, reflecting a key cultural expectation in China. As the film progresses, Harry continues to be seen as a stereotypical Chinese student by his American teachers and peers: quiet and detached from many events. He prefers playing video games alone in his room over parties and enjoys alone time for self-reflection instead of going out with friends. 
In contrast, Stella breaks several Chinese stereotypes. Upon her arrival, she joins the cheerleading team and attends many parties. Stella takes pride in her social achievements, even describing the numerous suitors she has on camera. Her outgoing and open personality demonstrates to both her teachers and the audience of the film that not all Chinese students are introverted, socially awkward bookworms.
After the film screening, students who participated in the event were split into groups that contained a variety of people from different schools. Workshop leaders began the discussions by asking a series of questions that encompassed a set of problems that international students might face during their time at boarding school and their thoughts on their shared experiences, such as the integration with students who come from different backgrounds.
"It was really interesting to talk to people with similar backgrounds and understand their perspectives as an international student," said Sophia Deng '22.   
Being half Japanese yet living in the US, Mei Matsui' 22 said, "The discussions after  made me realize the problems international students who are around me might face."
The faculty who were present also discussed the film among themselves. Chinese teacher Shannon  Jin, who chaperoned the trip and attended the faculty discussion, said, "This documentary opened up another view to international students coming to boarding schools and the different paths which they choose to take while being at these schools."
Leave a Comment