Parents' Weekend Games Preview
Varsity Football vs. St. George's
After beginning the season 2-0, Groton Football looks to build off of their early momentum. The team has done an excellent job of executing plays in their games thus far, especially on the offensive end. Captains John Beatty '16, Arthur Jelin '16 and Malcolm Akinje '16 have stepped up as leaders both on and off the field and have been crucial in helping the team to play as a cohesive unit.
Early season highlights have included Beatty's 53 yard run to score a touchdown against Middlesex, Bennett Smith's '19 pick-six against Rivers, and a defensive sack by Casey Forbes '17 to end the Middlesex game. Gro- ton's Parents' Weekend game against St. George's looks to be a challenging matchup for the Zebras. Despite not being particularly strong in recent years, St. George's fields a very talented team this season.
Of the upcoming game, Rashawn Grant '17 said that, "as long as we play well and know our assignments we should be able to compete well against this team." This matchup looks to be an exciting one that could certainly go either way.
Boys Varsity Soccer vs. St. Paul's
With three wins, two ties, and two losses in their first seven games, the Varsity Boys' Soccer team is currently ranked 5th in the ISL. With the top four teams making the playoffs, Groton looks to move up and improve in the second half of the season. Despite somewhat of a slow start, the team has come together in recent games, combining its young talent with the experience and leadership of the upperclassmen. Groton's offense has been especially strong in recent games. In recent years, Groton has been successful against St. Paul's, and hopes to continue this success in the Parents' Week- end game.
Girls Varsity Soccer vs. St. Paul's
Coming off of a 2014 Class B New England Championship, the Varsity Girls' Soc- cer team had expectations set high going into this season.
Losing only one of their first nine games to an extremely competitive Rivers team, the Zebras have proved that they remain a top team in the ISL despite graduating a number of seniors last season. The leadership that many of the veteran players have shown has been key to their early success.
Co-captains Ali Lamson '16 and Amani Jiu '17 have set a positive tone for the group and helped the new players adapt to the team's style of play. Varsity Girls' Soccer has had success against their Parents' Weekend opponent St. Paul's in recent years, and the girls hope to continue this trend. Amani Jiu '17 says the team is "excited to play St. Paul's, as Parent's Weekend is always a spirited environment."
Varsity Field Hockey vs. St. Paul's
After going 4-4 in their first eight games, Varsity Field Hockey looks to finish out the season strong and come out with a winning record. Despite losing a starting player to injury during their game against Middlesex, the team has a number of bench players who they will look to to step up. When asked about her expectations for their St. Paul's game, Sixth Former and co-captain Anna Thorndike said that, "St. Paul's is historically a very good team; however, we have a strong offense and have had a number of high scoring games; we have a good chance of doing well against them."
Boys' Cross Country vs. Rivers, Lawrence Academy, Milton Academy
Boys' Cross Country is off to a solid start to their season, go- ing 7-4 against their first eleven opponents. Led by co-captains Nick Barry '16 and Will Norton '17, the varsity runners have done a good job of running together and using pack running to defeat several of their opponents. Facing Rivers, Lawrence Academy and Milton Academy, the Zebras have tough competition on Parents' Weekend with these three ISL teams having historically strong running programs. Captain Will Norton says that if the team "continues to train as they have been and stays healthy, they should be competitive against all three of these teams."
Girls Cross Country vs. Rivers, Lawrence Academy, Milton Academy
Girls' Cross Country has looked increasingly strong in each of their races this season and has had lots of early suc- cess, beating seven of the nine teams they have faced thus far. Each runner has shown great improvement, with the average time decreasing by 39 seconds since the beginning of the season. The Zebras have capitalized on their depth, as evident by the fact that they have won all but one of their JV races, with the varsity runners running closely together.
About the Contributor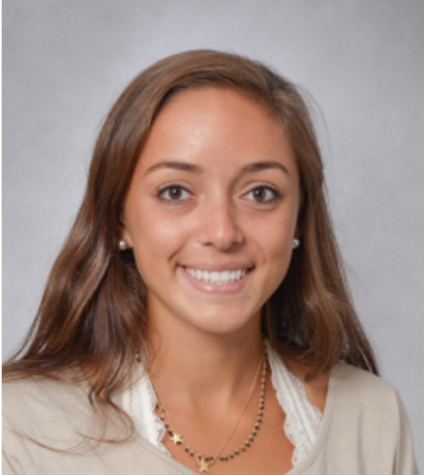 Delaney Tantillo '17, Sports Editor
Delaney Tantillo '17 is from Weston, Massachusetts and began writing for The Circle Voice in Third Form. She enjoys writing for the Sports section, especially...