Artist of the Issue: Jed Rainey
It's Saturday night, and the dance floor under the Dining Hall is lively and crowded, the space covered in graffiti and strobe lights.  Tracks blast from the DJ booth. There, you will find DJ Rainfall, more commonly known as Jed Rainey '20. Jed is a familiar face behind the turntables of Groton dances, mixing and jamming away in the booth.
How did it all start for you? 
 If I had to point to an 'origin story' for my first interest in DJing, it would surely be when I offered to play music for a neighborhood party in my hometown. Of course, I wasn't paid, as I was only in seventh grade and used just my laptop and a tiny Bluetooth speaker, but I was so excited to be able to entertain a small crowd and add enjoyment to the event. My reward was the smiles on all the kids' and adults' faces when I played their favorite music. From there, it took off for me, as I soon bought my first cheap equipment and logged many hours on my bedroom desk, watching YouTube videos and asking around for tips on learning how to master the basic skills of real DJing, not just pressing play. 
What are your influences for DJing? Who are your role models?
Most of my direct influences have been local DJs in the past who have patiently explained to me the science and technique of running a party or school dance. For example, the CEO of a large DJ company in my hometown let me come with him to a huge prom dance for a large high school, and even though I was just a fly on the wall, I picked up on countless nuances and tricks that were second nature to him. 
On the other hand, I would say that my celebrity DJ or producer role model over the years has been the artist Martin Garrix, who released the song "Animals" that topped the world EDM charts when he was seventeen years old. His humble personality and positive show presence have always drawn my attention more than any other artist, and I love his music.
How do you operate behind the turntable?
Because most of my experience behind the controller up to this point has been at Groton, I think that I have had the luxury of a very laid-back performing experience. I can leave all of my equipment in the booth in the student center, and I only have to arrive about fifteen minutes early to check my cables and warm up all of the equipment for a dance. 
As for my techniques, I typically mix with beat matching on two decks, which means that I use my controller, or 'mixer', to adjust the tempo of the next song to match the song that is playing, and then I align the songs so that their beat is the same. Then it's pretty simple: I just fade out the old song and slowly bring in the new song during a break in the vocals. I use a controller that connects to my laptop so that I have the ability to connect to my Spotify library, which allows me to find virtually any song that exists.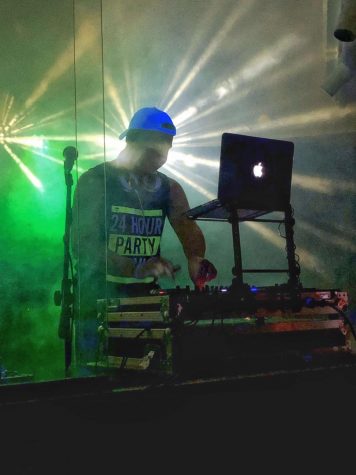 What was your most memorable DJing moment at Groton?
My favorite DJing moment at Groton was definitely this year's '80s Dance. The energy was through the roof, and I was hyped to be able to show the new kids a good time as they were getting settled in, and didn't know what Groton was all about. All of my tricks and go-to songs were hitting the crowd well, and I took some advice from friends and mixed in some more rap music to dilute the pop-heavy set that I used at Awkward Dance.
What is one track that never gets old for you no matter how many times you hear it? 
While there are so many good songs out there, I think that especially at Groton dances, "Ridin' Solo" by Jason Derulo is a great song. I have never once gotten bored of hearing the song. The students always love it, and it's a relief that a relatively innocent pop song with pretty clean lyrics is so popular all the time. It's a great way to end dances. Also, "Ridin' Solo" helps me avoid any possible issues with chaperones that could be caused by some… other songs.
What is one track that went viral that you cannot stand? 
"Mo Bamba." Enough said.
What are your future plans as DJ Rainfall?
In college, I know that the scene will look drastically different than Groton's, but I'm ecstatic to help with fraternity and sorority parties and to contribute to student life with my DJing skills. Maybe I'll even spark the idea for a massive music festival on campus that can showcase a bunch of different DJs to help everyone get their name out there and keep the culture strong.