Groton Swim Smashes Through Expectations at Invitational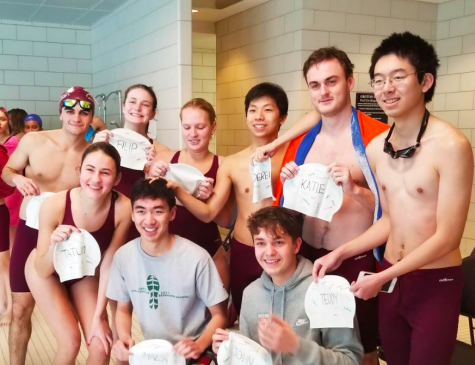 "There have only been a few times in my coaching career that I have been speechless. I'm proud to say today was one of those days. I'm so honored to be a coach to such amazing athletes. Today, you represented Groton Varsity Swimming at a whole new level," said Coach Caley Zannoni in an email to her team after seeing the results of the meet. The Groton swim team surprised their coach and each other as they outperformed their expectations at the Eastern Independent League (EIL) and Independent School League (ISL) championship meet on February 22.
A relay team of Chloe Zheng '22, Brianna Zhang '22, Olivia Fayemi '22, and Sophia Wu '21 came in third in the girls 200 medley relay. Harvey Yuen '21, Harry Liao '21, Derek Chang, and co-captain John Donovan '20 also placed third overall in the ISL in the boys 200 medley relay. Ultimately, the boys placed fifth out of nine schools and the girls placed seventh out of eleven –– a feat for a team of only fifteen swimmers.
According to captain Katie Reveno '20, this year marks the first time the team has sent more than a handful of swimmers and been able to miss class for the championship meet. Katie added that another thing Coach Caley was pushing for was to legitimize the sport: "Caley is trying to really make people, as well as the team, see swimming as a real sport. I think that she made a concerted effort to get everything in order and get permission to go to the meet." 
Derek added, "I think this invitation is a great step forward for the team, allowing us to face a wider range of competition" and exposing the Groton swim program to prospective students.
The swimming program has come a long way, starting as a small club in 2008 and then recognized as a varsity sport in 2014. Within five seasons, the team has gone from a few students with an interest in competitive swimming to a serious competitor in the EIL and ISL. 
The ISL has programs far older than Groton's so, for our swim team, competing against them is no easy feat. During the championship, however, the Zebras proved themselves up to the task.
Leave a Comment