Squash Wins Double National Championships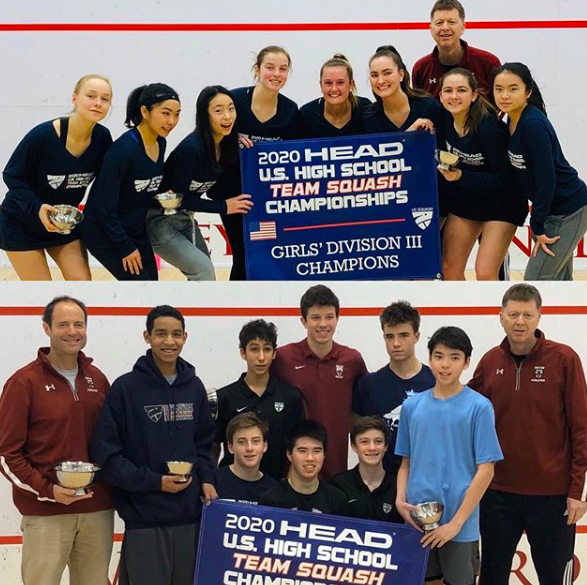 For Groton varsity squash, their weekend at High School Squash Nationals in Hartford, Connecticut proved a fruitful one: when both teams returned to campus on Sunday night, they were division three champions. 
The girls started the tournament off strong, beating both Friends Central then Hopkins School 6-1 before facing Conestoga High School in the semifinals. Last year, a 3-4 loss against Conestoga sent them home at the same point in the tournament, so the team was eager for revenge. Moreover, Conestoga was seeded second this year while Groton was seeded third. But a victory by Amelia Lee '22 sent the team to the final where they would face an even older rival: St. Mark's School. While the team had beaten St. Mark's earlier in this season, the final match was close and came down to the final game, where Ambrey Hayes '20 secured the win — and the division three title for the girls. 
The boys had a similarly easy start to the tournament, defeating the Packer Collegiate Institute 5-2, then both Tabor Academy and Berkshire School 6-1. The real test came in the final when the team faced Horn Lake Middle School. The whole championship came to rest on Tyler Weisberg '22 as he played the seventh and final match. In a decisive 3-0 victory, Tyler secured the title for the school. The boys entered the tournament as one of four top seeds in division three. While winning the title was never assured, the tournament proved to be well within the capabilities of this year's talented squad. Moreover, the five members of this year's team will continue playing together for another two years, and they hope to build on this season's success.