Athlete of the Issue: Sammy Johnson '16
Sammy Johnson '16 is a tri-varsity athlete and has been playing sports for as long as she can remember. Her hockey career began at the age of eight, when she competed in the "Mighty Mights" league, while she began competing in club lacrosse in sixth grade.
Sammy has continued her strong involvement with sports during her time at Groton. "Athletics have been a big part of my experience," she said. "After playing a sport every season—I can't imagine my life here without practice every day with my teammates."
Since coming to Groton in Fourth Form, she has played varsity field hockey, ice hockey, and lacrosse. This year, she is a captain of both the ice hockey and lacrosse teams. She starts as goalie for the Girls' Varsity Hockey team, a position that she has played since she was twelve.
At Groton, Sammy has developed close relationships with her coaches. Girls' Hockey coach Randi Dumont said, "As a coach, being able to work with such a grounded, reflective, competitive young individual is quite rewarding. Sammy is a kid you can speak candidly with, and she brings a mature mindset to each and every one of her interactions with her coaches–she's great at engaging in difficult dialogue as a result."
Sammy was recently awarded "Athlete of the Week" for her impressive performance against Milton, against whom she deflected 28 shots. When reflecting on that game, Sammy said, "We beat Milton 1-0, and it was a feat. The game was a benchmark for our team. It was a long fought battle to the very last seconds of the game, and no one on the whole team gave up. It was incredible to see the team grow from my Fourth Form year when we didn't win a single game, and now we have beaten one of the most competitive teams in the ISL."
In addition to the time-consuming practices and games at Groton, Sammy continues to participate in her club league as a member of the "The Islanders." Recently she experienced one of the most successful games of her club career, explaining, "My team beat Assabet Valley, and they go to Nationals every year. My whole life, growing up, we would lose to them by a ton, and this year we beat them in the state playoffs."
Sammy's athletic prowess is evident in more than just hockey: she is also a prominent field hockey and lacrosse athlete.Though she only started playing field hockey when she arrived at preseason in Fourth Form, she made the varsity Field Hockey team that year and quickly grew into a valuable player. Field Hockey coach Kathy Leggat said, "You see her have 'Aha' moments on the field. She is a good athlete with quick reflexes, and she has developed very strong skills in her three years here." In one game against Cushing Academy, Sammy famously scored five goals, proving her capability as a top scorer on the team. With her extraordinary skill set, she intends to continue playing hockey and club lacrosse in college.
Sammy's journey as an athlete has not come without setbacks. In a hockey game against Nobles during her Fourth Form year, she slipped and fell backwards while attempting to make a save. The fall caused a subluxation to her knee cap, and she tore her MCL.
Though determination, skill, and hard work are necessary to success in any sport, Sammy also carries the spirit of the team with her outstanding attitude and encouragement towards teammates. Field Hockey coach Sally Klose said of Sammy, "She kept her teammates' spirits high during practices and in games, and was always mindful of the team's goals over her own."
Groton is lucky to have such a dedicated athlete. Sammy says her athletic experience at Groton has "connected me to friends across all Gorms, and given me the opportunity to create lasting friendships that wouldn't have been made otherwise." She is a powerful influence on all three of her teams, and her motivation and spirit will be greatly missed.
Leave a Comment
About the Contributors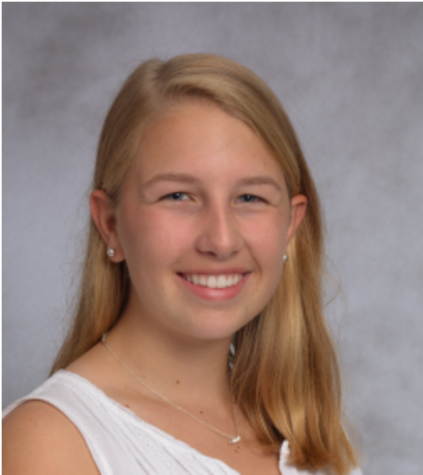 Allie Banks '16, Photography Editor
Allie Banks '16 has been on the CV staff for three years and has worked as Photography Editor for two of them. Starting on the staff in Fourth Form as...