Athlete of the Issue: Griffin Johnson '22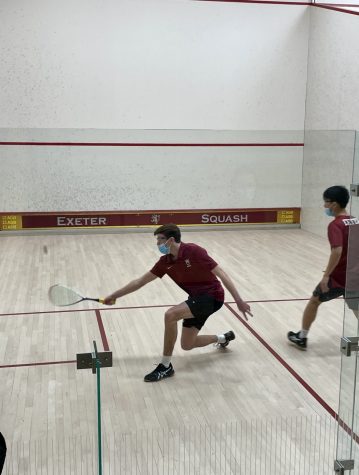 Griffin Johnson was a chief contributor to the Groton Boys Squash win at the Division III nationals in 2020, and now two years later, Johnson leads the team as captain as they look to claim another championship in the Division II Nationals. A season of no competition did not stop the team from improving, and Griffin is excited to go into the season with one of the strongest rosters in past years. Mr. Prockop has seen Griffin's growth over the past 3 years, "Griffin has been dedicated to squash for years but he really took advantage ofthe lapse in competition due to covid over the last year and a half to work on his game and he's really jumped up in a huge level in that time."
When did you first start playing squash?
I've been playing squash since I was 7 years old. I've been competing in tournaments since U11, but I began to take it more seriously when I got to Groton in third form. 
What prompted you to first join the squash program here at Groton?
I knew that I wanted to play squash in high school before I came here, and one of the reasons I decided to apply was because I knew that Groton's squash program was strong, especially for a school this small. The fact that Groton had such a nice facility was appealing as well. Having the space that twelve courts provide is a huge advantage for both practice and competition.
What is your most memorable Groton squash moment?
My most memorable squash moment was in February of IV form when our team won Division III nationals. I had started to put more work in after practice and on rest days, so seeing the improvement pay off in our biggest tournament of the season was amazing. The atmosphere was pretty exciting to play in, and the team played some amazing matches against tough opponents.
What important lessons have you learned from squash?  
It's just as important to learn how to practice as it is to spend extra time playing. If you're not moving effectively or using proper technique, then learning how to make that change is far more important than continuing the drill. A lesson that squash is still teaching me is that improvement isn't always linear. Learning to take the good days with the bad ones makes everything from school to squash more enjoyable, and takes the pressure away from some situations.
What is one game or moment that is particularly special to you?
I remember playing a match against Andover in IV form, and I had a pretty bad cold at the time. I played a match against somebody who was supposed to beat me on paper, so I figured that I wouldn't have a good chance while I was sick. My match ended up as the last one to finish, so both teams and all the spectators were watching my last game. I ended up playing my longest match of the year, winning the final game 11-9. Being elected captain felt very rewarding as well, and I am excited to lead the team this year. 
What do you look forward to in the upcoming season?
Our team is the strongest it's been in a few years, so I'm really hoping we can win some important matches in the following weeks and play in either Division II or Division I at nationals. Outside of that, I'm just happy to be playing competitively with the team again. We were disappointed to lose the season last year, so we're really hoping to take advantage of this year.
Leave a Comment