A teenager winning a tennis grand slam? A thirty-six-year-old tying the all-time grand slam record? Both incredible feats occurred under the bright lights of the 2023 U.S. Open in New York City. This international tournament drew players from every corner of the globe for a shot at achieving tennis immortality—a chance to see their name next to legends. With a record-breaking attendance of 957,387, the tournament became the most successful in over a decade. 
Nineteen-year-old American phenom Coco Gauff headlined an extremely competitive women's draw. In the end, Gauff lifted a grand slam trophy for the first time in her career. However, her path to victory was not without a fight. The emerging star split sets in three of her first four matches, and it took five of her seven wins over two hours to finish. Among those who fell to Gauff was former world number one Caroline Wozniacki, a new mother returning to the court just this year. Gauff bested the one-time grand slam champion 6–1 in the third set in a show of complete dominance after a shaky beginning. Gauff would not be tested again until the finals, where she played the world number two, Aryna Sabalenka. The Russian athlete won the first set in a blowout 6–2, only to drop the second set by a similar score of 6–3. Gauff tapped into her potential, flashing moments of utter brilliance and taking the match with a 6–2 third set. Post-match Gauff even thanked her haters, saying, "Thank you to the people who didn't believe in me." At such a young age, Gauff looks well on her way to tennis greatness.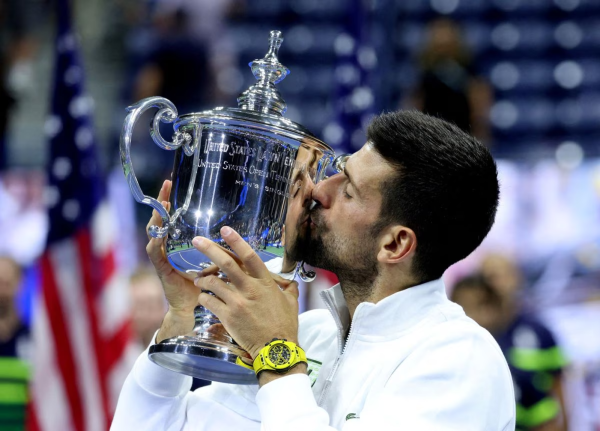 On the men's side, ageless wonder Novak Djokovic showed once again why he is considered by many to be the greatest of all time, tying Margaret Court for most grand slams in tennis history. His path to victory did not include the same rigor as Gauff's. Djokovic only dropped a set in one match, in a grueling five-set victory against fellow Serbian Laslo Djere. In the finals, Djokovic dominated world number three Daniil Medvedev of Russia. Djokovic described winning his record-tying twenty-fourth slam as "living my childhood dream," saying, "I never imagined I would be standing here talking about 24 slams." 
A second story emerged from the men's side: the resurgence of American tennis. Three Americans made the quarterfinals and four made the round of sixteen. Among those, most notable was Ben Shelton, a twenty-year-old Georgian fresh out of the University of Florida. With two serves clocking 149 mph and a tournament-leading eighty-one aces, the sky is the limit for the young semi-finalist.
The city that never sleeps brought energy and excitement to this special tournament. The fans witnessed record-breaking firsts, a reminder of continuous greatness, and a season finale they are unlikely to forget.