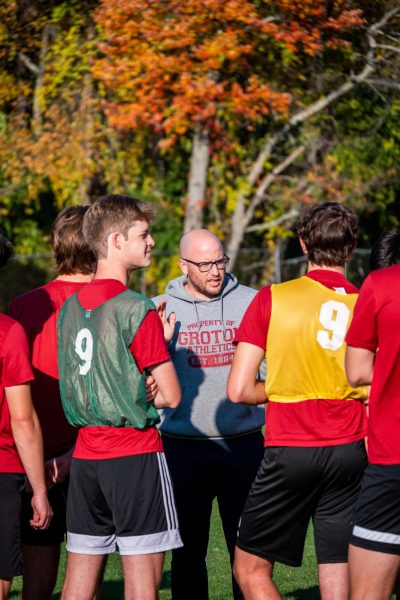 When Joseph Martinez first arrived on the Circle in the fall of 2020, he took on the role of both an English teacher and a boy's soccer coach. With the head coach of boys varsity soccer on sabbatical and interscholastic play being suspended that year, the program turned to Coach Martinez to use the season to develop a group of mostly newcomers into a team that could be competitive in the ISL. Just two years later, head Coach Martinez and those former rookies are setting their eyes on the ISL playoffs with high hopes. 
Having played since a young age and coaching for seven years at Avon Old Farms, an all-boys boarding school in Connecticut, Coach Martinez has plenty of experience to bring to the Groton program. "Soccer is a perfect vehicle for supporting the school's mission in terms of diversity and character," he says, "I want our roster to represent our school." For Coach Martinez, playing soccer is also about building character; the driven and focused students at Groton are something that "you don't really get it anywhere else." 
One thing that excites Coach Martinez about coaching Groton students is how easily they soak up tactics and put them in play on the field. He believes that being a student doesn't mean you have to give up being an athlete, and that they can in fact complement each other. He expresses how Groton can compete at a high level in both athletics and academics.
When talking about what has changed in the past two years, Coach Martinez said, "our mentality has changed a lot. I've focused on fitness first and casting aside some of the tactical moves in order to just play as hard as we can and put players in positions to make their own decisions." This captures much of Martinez's coaching style, one that prioritizes work ethic and puts trust in his players. Another large component for him is showing his players that he cares and works hard, hoping that they will reciprocate that energy on the field. 
On a roster of twenty-six players, fifteen are seniors who have been with Coach Martinez for over two years, making Groton boy's soccer a strong contender for the playoffs. Looking ahead, it is clear that Groton soccer is in good hands, and Coach Martinez will leave his mark on the program as well as the school.