Listen Up: The Circle Voice has a Podcast!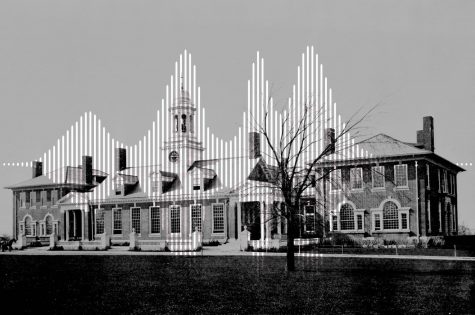 The Circle Voice has long been known for its articles on community news and hot takes. However, as the new year starts, the publication is introducing an exciting new initiative: a Circle Voice Podcast! 
Editor-in-Chief Tyler Weisberg '22 thought of the idea when he came across the podcasts of the South China Morning Post, where he interned. He realized that the Circle Voice could use this type of creative outlet. "A podcast is one thing that the school's been missing for so long," Tyler explained, "and it's the perfect way to tell stories without having to read text." 
In addition to reading traditional articles, the Groton community will also be able to listen to accessible recordings, which may increase engagement for the Circle Voice as a whole. Through interviews and conversations, "we hope to highlight faculty favorites and spotlight staff and other underrepresented voices in the community," said Editor-in-Chief Allison Jiang '22.
Although funding was not an issue for the publication, the printing costs saved from the pandemic "left an additional year's worth of the budget for this school year," said Allison. Tyler worked with Systems Support Specialist Paul Kouris to purchase audio recording equipment, including microphones, cables, and adapters.
After all the equipment was set up, Elizabeth Wolfram '23 and Steven Pang '22 hosted the first podcast: an interview with Classics teacher Andres T. Reyes '80, who retired last Spring after 27 years of teaching at Groton. Recorded in May 2021, the episode highlights some of Dr. Reyes's experiences as both a student and teacher at Groton, uncovering little-known facts about the school.
The podcast will operate separately from the writing staff of the Circle Voice. Allison and Tyler are looking for two podcast hosts for the year, and they will hold auditions when everyone is back on campus. These hosts will be in charge of deciding which guests to bring in and the direction of each interview. In addition, the editors-in-chief are receiving applications for two podcast editing positions.
The section is still a work in progress. "We're trying to get the podcast on Spotify or iTunes and integrate it into the Circle Voice website," said Tyler. Hosts may eventually upgrade the setup from three microphones to four to allow two guests on the show. The name of the podcast is also currently undecided, and the editors-in-chief are waiting on the input of new podcast hosts.
The first podcast episode is live now, with this year's first issue — check it out on the Circle Voice website!
Leave a Comment