National Medalists for the Scholastic Art and Writing Competition
This year, many Groton School students won national and regional key prizes for their art and writing submitted to the annual Scholastic Art and Writing Awards competition. Specifically, five students earned national medal awards, an even higher accolade, for their pieces. Four students earned a combined four silver and one gold medal for the arts, and one student won a gold medal for her writing. Each student has a unique story of how their piece came to be. Take a look at their special pieces and the inspiration behind each one! 
Sophia-Nicole Bay '23
Personal Essay & Memoir: "Hunger"
Gold Medal
In her personal essay, Sophia reflects on her abstinence from food and how it affected her relationship with her father. "Food, which is a binding glue between families and cultures, was always something that separated my father and I." Throughout the writing process, Sophia channeled her creativity by self-expression. "I often write as a way to heal and reflect. When I wrote my memoir piece 'Hunger,' I was in a period where I was struggling with my relationship with food." Check out her writing at artandwriting.org in June!
Tyler Weisberg '22
Photography: 66-year Hustle
Silver Medal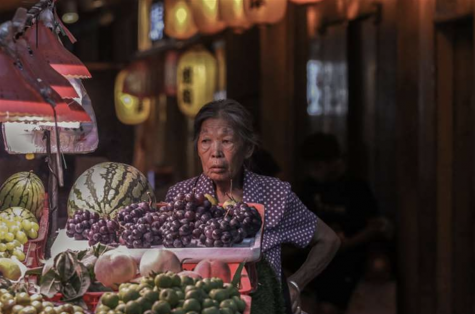 Tyler's piece is a product of his recent trip to Chengdu, China, where he was able to capture the life of a local fruit vendor in a single photograph. He listened to her story and struggles of making a living and decided to document it. "I was speaking to the photographed grandmother, and although I had trouble understanding her local dialect, she told me about how hard it is to make a living in a growing city." His piece sheds light on the millions of older small business owners struggling to keep up with the changing job market. At the end of his conversation, Tyler bought $2 worth of watermelons and said goodbye.
Amy Sharma '23
Painting: Tupandactylus imperator in the Underworld
Silver Medal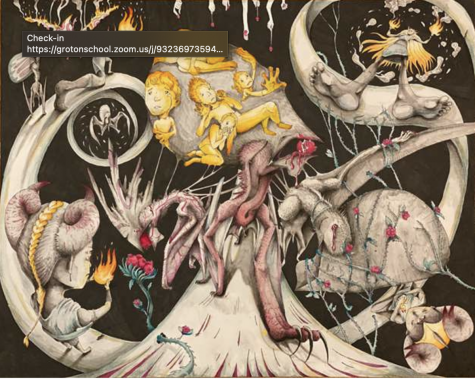 Amy's painting was influenced by her fascination with paleontology, specifically the pterosaur, a flying dinosaur. She draws inspiration from her favorite paleo artist Mark Witton. Amy explains how her piece "explores the ways that the pursuit of beauty can trap us in our own minds by featuring the Tupandactylus imperator, the pterosaur with the largest head crest, and tying in the Greek myth of Persephone and Hades." The vivid colors and abundant shapes illuminate her vision of something fantastical. "I think my favorite part of both these pieces is the intersection of science and art. It just fascinates me so much that I can use art to explore these ideas that are usually taught so far apart from each other."
Angela Wei '21
Art Portfolio: The Diotimas
Silver Medal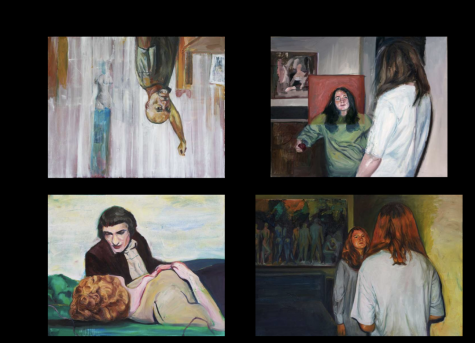 Angela received a medal for her art portfolio, which comprised of six paintings that express her experiences with love. "In my work, I seek to democratize love by dismantling traditional models of perfection." Angela's paintings capture stills of ordinary people around us, instead of a "perfect" model. In doing so, she draws inspiration from artists like Van Eyck and Francis Bacon. Her paintings collectively convey the message of how love doesn't always exist to be perfect, but is nevertheless worthwhile. "My current artwork continues to explore love's uncertainties, which are never as intimidating as they seem."
Isabel Cai '21
Painting: 270 Million Grains
Gold Medal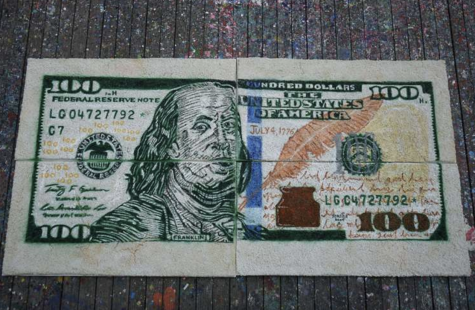 With her mixed-media painting, Isabel chose to creatively draw awareness to the exacerbated wealth inequality during the Covid-19 pandemic. She constructed her piece with 270 million grains of reused rice, representing the 270 million people in the world whose daily income, falling below the poverty line, equates to the richest person's net worth. Isabel explains, "All humans should be treated equally in the face of a global health crisis, but wealth has deemed some lives more valuable than others." Her final piece shows a painting of a hundred dollar bill: a symbol recognized globally for its influence on the lives of millions. 
Leave a Comment