Spotlight on Advanced Open Studio Art Class Projects: Blending of Mediums and Borders
The Advanced Open Studio art class directed by Ms. Ho and Ms. de Jesus-Akuete has pioneered through Covid-19 protocols by working on cooperative group projects, collaborating with artists distanced by six feet or Zoom. No matter how unbending the school rules might be, students were still able to put their artistic expression to the test, mixing different mediums and interacting with partners in an effort to produce their respective final artwork.
Given the physical separation between collaborating artists, the Advanced Open Studio students champion their personal projects with little to no restrictions on what they can create. "We have a ton of freedom in figuring out what we want to create, and we can work on them fairly independently, with several one-on-one check-ins with Ms. Ho and/or Mrs. de Jesus-Akuete throughout the course of the projects' creation, where they ask us how we are doing and give us advice on how we should tackle road bumps in our project," said Noemi Iwasaki '22. Digital illustrations and painting are not the only art forms created within the classroom; students also gravitated towards other traditional and modern mediums, such as photography, sculpture, fashion, filmmaking, and animation. 
"For me, COVID has made some things difficult, but also opened my eyes to new perspectives. The pandemic has really allowed me to find different ways to learn and express myself—in some ways, COVID has not really changed much for me artistically, as I am always making art, no matter the circumstances," Sharma '23 stated. 
Projected to be submitted at the end of the winter term, these projects are an exciting testament to the unique, collaborative dynamic between artists through the dedication of on-campus and remote students.
Amy Sharma '23 and Hollis Maxson '21 chose to incorporate their respective painting styles into a joint Open Studio project depicting abstract concepts surrounding time and space. Sharma explained the future plans for their artwork, providing a glimpse of context for interpretation.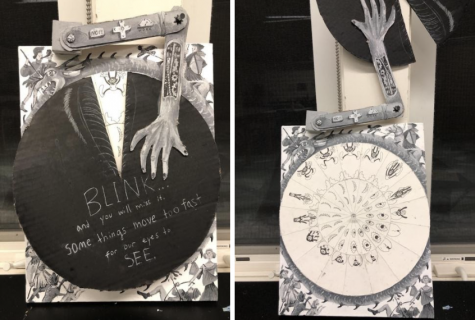 What is your project? How did you both implement your respective art styles into it?
My current piece (out of a six-piece project) is a small canvas depicting Motion, which consists of a moving animation disk mounted on a painted canvas. When spun and looked at through a slot, you can see the animation moving. This represents the physical movement of our bodies, which is broken down into little actions that we overlook. There is a retractable cover connected to a moving arm that represents how there is so much our physical bodies can miss, how so much of the world can be blocked out. For his first piece, Hollis is making small picture Time. On a separate circular canvas, he is painting an intricate antique clock representing the endless ticking of time, the seconds and minutes passing through our lives, dictating our every action, and stretching all the way back through history, the invisible thread that connects us all. 
What does your project depict? Are there any subtle meanings behind it?
The theme of this project is about the layers of reality that we cannot perceive or easily understand. The three unseen layers Hollis and I are exploring are Time, Space, and Motion. Each of these three dimensions are broken down into two subcategories: a more abstract version, and a more physical, down-to-earth version. The final product will be made up of six paintings/canvases of different sizes and shapes, layered or hanging on top of each other at different angles. Each canvas corresponds to one dimension. 
From the perspective of a remote-learning student, Noemi Iwasaki '22 describes the fusion of different art-styles with her teammates Wren Fortunoff '22 and Andrew Huo '21, as well as the inspiration behind their Open Studio project.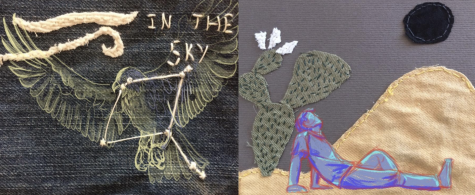 What is your project? How did you both implement your respective art styles into it?
Andrew, Wren and I are creating a comic based on Aesop's fable "the Astrologer." Since we're the biggest three-person group, we decided that something expansive like a comic might allow us to blend each of our respective mediums cohesively. Andrew is making reliefs and sculptures out of clay, Wren is working with fabrics and embroidery, and I am working with digital illustration. 
What does your project depict? Are there any subtle meanings behind it?
The fable itself is a short and simple one about an Astrologer who is always looking up at the stars to try and understand the future. While he is walking one night, he is looking at the sky and does not see the well in front of him. He stumbles in, and learns a lesson about how worrying about grand aspirations can sometimes distract you from seeing the things near you. All of us in the group empathized a lot with this story. The main gist of it is that we all sometimes feel caught up in a scramble for different lofty goals for our futures, while losing touch with what we have around us.
Lexie Steinert '21 and Tyler Weisberg '22 chose to unify their contrasting styles by selecting three one or two word prompts and then creating whatever came to mind based on the prompt. The resulting collection is made of six total works, three from each artist. The works for "Self" are pictured below.

What is your project? How did you both implement your respective art styles into it?
Each piece by one artist had a corresponding piece with the other artist, however their only similarity was their one to two word prompt. This concept was born out of curiosity about how to depict culture, and its specific differences, visually. Thus, differences in our personal experiences influenced our interpretations of the prompt. Tyler, who gravitates often towards digital and film work, utilized original images to collage as well as work with digital manipulation. Contrasting Tyler's style, I have a background in traditional two-dimensional art forms such as painting and drawing, as well as an interest in poetry. We both became inspired by each other's preliminary work, and as the project progressed into the final stages we were expanding our artistic comfort zones.
Leave a Comment