First Chinese Mudge Fellow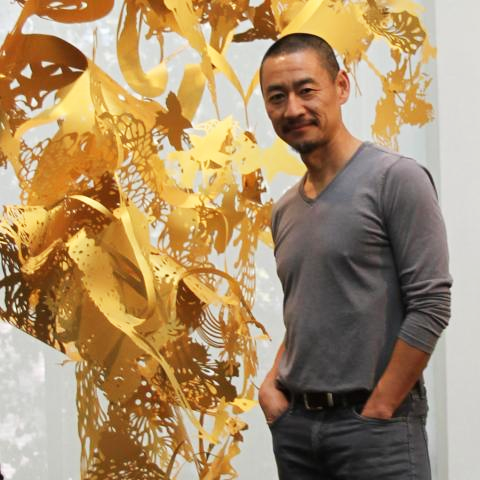 Every winter, an artist is chosen to come and participate in the Old Mudge Fellowship. The artist's work is displayed in the Brodigan Gallery for around two months and he will come to Groton to work with various art classes and the community for a week.
The Mudge Fellow tradition started in 1992. Usually, the Mudge Fellow is chosen by someone from the Groton community who refers the artist to the program. This year, Director of Arts Jennifer Ho nominated Fred Liang, a professor of printmaking, 2D printing and painting at Massachusetts College of Art and Design. His works have been featured in museums including the Tianmiao Gallery in Beijing, China, and the Currier Museum in Manchester, New Hampshire. 
This is the first time a Chinese artist has come to Groton as the Old Mudge Fellow in the thirty years of the program, which is significant as it offers a new cultural and artistic perspective. 
Fred Liang was born in Wuhan, China, and grew up during the Cultural Revolution before moving to Winnipeg, Manitoba. He then attended the University of Manitoba to earn his Bachelor of Fine Arts and earned his Masters of Fine Arts from Yale University. Mr. Liang has been featured in exhibits around the world from Grand Forks, North Dakota, to Oaxaca, Mexico, and Beijing, China. He has received multiple awards and grants throughout his career, including the Heinz Jordan Prize in Painting as well as the Shanski Fine Arts Award. He is a celebrated and established figure in the art community.
"His works are representative and symbolic, and he makes sculptures, casted moldings of the buddha head, and creates pieces with lots of deities and symbolism," said Ms. Ho. 
She is excited for the artist "to interact with students" and form a "deeper connection"  because oftentimes artists simply exhibit their own work and then leave, rather than staying for a full week. Additionally, she said how "the mudge fellows, in particular, stand out because they have a full week and they get to see students multiple times during that week and so they get to develop a relationship." Furthermore, Ms. Ho finds it "essential for the students who are taking art classes to interact with a working artist" who is "making it and showing their work." She especially sees this sort of interaction "very inspirational for someone who is considering that pathway."
In addition to working with various art classes, Fred Liang will complete a project with them. Although the logistics of what the project is this year have not been completely sorted out yet, Ms. Ho did mention that it will most likely center around big paper-cut pieces that he wants to hang in the Dining Hall.
Community is essential to life at Groton, and the idea behind the Mudge Fellow is that community can be found and made anywhere. That is one of the things having the Mudge Fellow stay for a week allow: the forming of a real relationship between student and artist. Hopefully, Fred Liang will incite new thought on art, but also on how a real artist works in the world outside of Groton.
Groton is looking forward to this enriching and special opportunity and warmly welcome Fred Liang for the Old Mudge Fellowship of 2019.
Leave a Comment