This winter, students dive into art through FSAs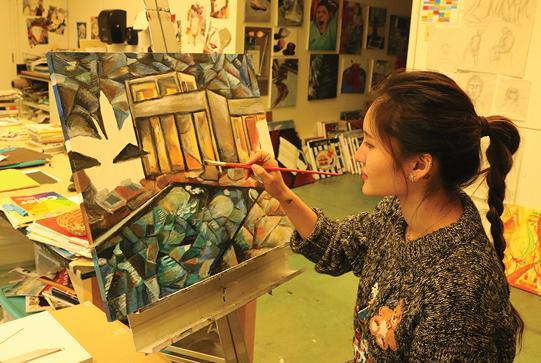 This winter, many students on campus have chosen to substitute a sport for an FSA as their afternoon activity. There are currently many FSAs focusing on art and music, with each student holding a strong passion for his or her project. On discussing his or her motives and an overview of winter projects, each student responded ambitiously.
A dynamic duo that you have probably heard of before, Langa Chinyoka '17 and Abby Power '17 will continue with songwriting and music technology. They first began their project last spring after forming their music group called SATTE when Abby needed a voice to accompany the several songs she had written in a music technology class. Abby and Langa hope to post their most recent work, an album entitled Gimme Space, to SoundCloud soon and to start and complete another album by the end of the term. The two are also planning to perform select songs from their albums at an FSA recital sometime at the end of the term.
In the same vein, Max Klein '18 will be exploring the various techniques of the composition of minimalist music. Ever since listening to "In C" by Terry Riley, Max has been hooked on the use of electronics, including synthesizers and loop pedals, to create a simplicity in score. Regarding his inspiration behind the FSA, Max says, "I have been composing for a couple of years now but I will be using the FSA to explore a different type of composition." At the end of the term, Max plans on performing all of the compositions he puts together live at a recital. He also hopes to record all of the work he creates this term.
Another musician, Christine Bernard '17, will use this term to continue to study the saxophone, piano, and flute. Christine began studying the saxophone and piano before she came to Groton, and picked up the flute during the fall of her fifth form year.
Compared to the other music FSAs, Christine is structuring hers with a more long-term objective.  Christine says, "The ultimate goal for my FSA is to prepare for my senior recital in May." Although the Spring seems far away now, Christine feels that it is essential to begin preparing now in order to perform to the best of her ability, especially because she will have another afternoon commitment during Spring term. Additionally, Christine enjoys finding special time to practice her instruments and moving forward in her musical career.
Gloria Hui '19 will also be spending this term studying music. She will try to write a piece for string instruments and the marimba. She will ultimately perform at the end of the term.
As for visual art, Yolanda Dong '17 will be doing an art history painting FSA this term. Yolanda has been interested in art history for some time, and she even plans on majoring in the field in college. Because there is no course at Groton that combines both the art and history elements that she wishes to explore, Yolanda decided to propose an FSA to harbor her growing interest in the subject.
She is also taking advantage of the time that an FSA provides and will be "getting a head start" on her future major by exploring and mimicking different styles of many artists from several different time periods. Throughout the term, Yolanda will be painting four pieces using four different styles: cubism, contemporary, impressionism, and symbolism.
She will also study the history and time periods in which each of these styles developed, giving her an even wider variety of styles and techniques with which to experiment. Yolanda plans on displaying her artwork in the end of term GUAC (Groton's art Instagram account) show and explaining the motive of her work to those who visit it at the end of the term.
Rose Larkin '16 plans on painting in oils this term, specifically focusing on portraits of powerful women. Rose has been interested in art for some time but has only recently started painting more seriously. Having grown up between California and Arizona, she was surrounded by Hispanic culture that she finds strongly compelling. She has chosen to paint powerful Hispanic women who have immigrated to the United States, with her goal being to depict the hope within their hardship. Rose remarks on her subjects, "The Hispanic women I know personally are particularly beautiful as I see their devotion to their faith and families in their beautifully lined faces and soulful eyes." At the end of the term, she will display her oil painting in hopes to communicate her respect for these women to her peers.
Finally, Catherine Qiao '18 is doing a "stereographic projection of art" FSA this term. Stereographic projection involves projecting the map of a sphere onto a plane surface. It combines mathematical and artistic elements that include devising a function to project the image, and also creating the image itself. Catherine will be painting on the spherical surfaces and is considering working on a 3D piece at the end of the term.
This term, several students will be spending their afternoons pursuing musical and artistic hobbies and passions. While the several listed above are limited to artistic work, within the FSAs a wide range of art forms are found, including those incorporating instrumental and electronic music, history, heritage, photography, and math. We look forward to seeing all the results at the end of the term.