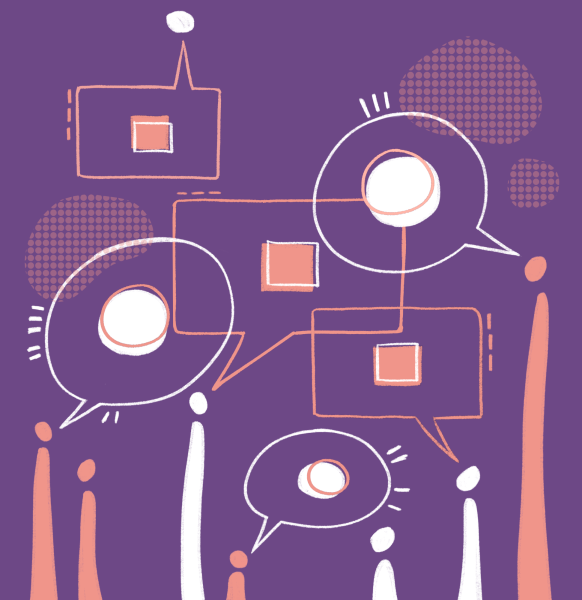 When the Speakers Committee originated in 2005, Circle Talks were known as All-School Lectures, infrequent lectures designed to expose students to a high level of cross-disciplinary expertise they would not ordinarily encounter within Groton's curriculum. At its inception, the committee's aims were for lectures to inform and ignite conversation within the community.
History teacher and Head of the Speakers Committee Ms. Tommy Lamont explains that, despite many students' desire to see more entertaining speakers, "The purpose of a Circle Talk is to inform our community on a host of topics. We hope that our speakers are engaging, dynamic, and inspiring, but that is not our primary purpose." 
Yet, as Groton has evolved since 2005, so, too, has the Speakers Committee. Two diverging philosophies about Circle Talks have emerged: one embraces the tradition of the All-School Lecture, and the other advocates for more progressive, student-centered presentations.
Reaching a decision among the committee's four students and six faculty members is a complex process. If a member has an idea for a speaker, they must research them in depth and ensure the speaker satisfies budgetary allowances. And when a speaker is chosen, they often do not reply to Ms. Lamont's emails in a timely or attentive manner, and may not fully heed her recommendations for speech topics.
To streamline the selection process, some faculty members on the committee frequently pull from a list of their own connections, such as their alma maters. While selecting a speaker with connections to Groton faculty simplifies the selection process, it is this very practice that has been cause for concern among students and faculty on and off the committee. A quick examination of the past thirteen Circle Talk speakers — from winter of 2021 to 2023 — reveals that twelve of them are current professors or graduates of an Ivy League university or Groton School, with seven of them having a connection to Harvard University in particular. 
Some faculty and students both on and off the committee have expressed concern that these selections reflect a sense of elitism regarding higher education and a broader pressure for students to revere Ivy League institutions.
Some justify the decision to draw from a cast of Ivy League professors by harkening back to the original purpose of the Circle Talk: to lecture. With this purpose in mind, Ms. Lamont explains that "We want someone who clearly knows what they're talking about and the best way to tell is their educational background." 
Yet, several Committee members believe Groton has evolved since the days of All-School Lectures, and should instead bring in a balance of speakers with lived experiences and not exclusively academic expertise. Committee member Jasmine Powell '24 believes that Arshay Cooper, this year's MLK Day speaker, was such a valuable and well-received speaker because he provided a "lived perspective Groton students don't often witness"—unlike the Ivy League–level lecturers Groton students are bound to encounter upon graduation.
Committee member Ms. Laurie Sales also believes that Circle Talks should reflect Groton's values of "equity, diversity, and inclusion, and an understanding of the world and local community here and now," and that they should "inspire us and pull us together as a community, and be relevant to the Groton community in particular."
These concerns reveal a collective uncertainty about the extent to which the selection process is actually democratic. While, in theory, selections should be based on consensus, in practice it is not always so.
According to member Jack Lionette '23, the structure and functioning of the committee does not lend itself to consensus. The committee meets infrequently—just twice this year—and during each meeting, members pitch and discuss ideas but ultimately leave with no consensus. So, when time constraints force the committee to choose a speaker quickly, executive decisions are made in place of a committee vote. And at times, several faculty and students on the committee are not informed of decisions until after they are made.
For example, the selection for next fall's speaker was made without consulting the Speakers Committee. While Ms. Lamont explains that she acted in the "the best interest of the program and the community" and that she had to "make the decision ASAP," her selection of an expert in India-China relations and another Harvard Business School professor opposes some committee members' desire to bring in a greater diversity of speakers.
In the most recent committee meeting, several members agreed that the interests of the entire student body have not been considered in a number of speaker decisions. For a school that encompasses students of ages twelve to nineteen and a vast array of interests, Ms. Sales believes it is not fully representative of all students' needs to bring exclusively experts in history or social science from Ivy League universities to the Circle. Of the past thirteen speakers, seven have been experts in the field of history and social sciences and, despite Ms. Sales' years-long advocacy for female speakers, just four were women. 
In response to the concerns about imbalance gender ratios among speakers, Ms. Lamont concedes that this is a point of improvement for the selection process. However, in regards to the lack of subject diversity, Ms. Lamont explains that "what tends to be most important now is current events, so the majority of speakers in history and social sciences is just the nature of the programming."
For speakers to truly represent the wishes of students and faculty, Lionette suggests that the committee should meet more frequently and partake in votes to consolidate decisions. He also proposes the idea to have smaller, optional, and more frequent "Mini Circle Talks" throughout the year to appeal to different sections within the student body's interests and allow for a more intimate discussion and Q&A with interested students. Ms. Sales and Committee Member Mr. Mark Melchior have advocated for a similar idea to create four- or five-year plans for speakers so that each student can experience speakers of a diversity of presentations throughout their time at Groton.
The Speakers Committee has the power to organize talks that not only inform, but engage, inspire, and engender much-needed discussion around the Circle. While the committee has made efforts to operate democratically, appeal to the student body, and feature a diversity of speakers, concerns among faculty and students suggest that there is still work to be done.