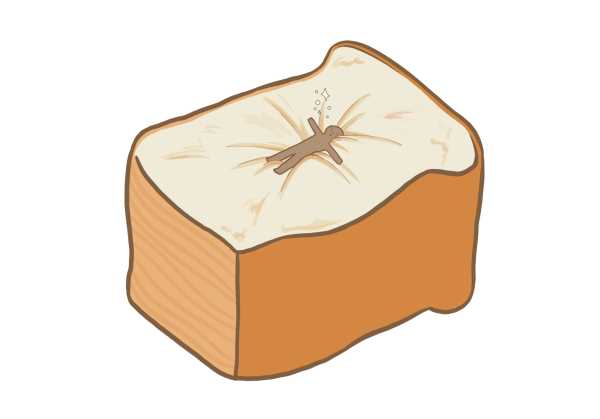 As a large baguette arrives at the table, twelve hungry mouths water in anticipation of what is to come: around the horn. As the delicious bread jumps around the table, students savor the soft yet crunchy texture and savory flavor. A source of nutrition has been transformed into a fountain of laughter and happiness. While many students are familiar with this phenomenon, few actually know where the bread comes from.
This responsibility falls to Mr. Jerry Brooks, Groton's laudable baker. Mr. Brooks toils five days a week among industrial mixers and a large oven to produce not only the bread, but all other baked goods as well. 
Luckily for us, this is not his first rodeo. Mr. Brooks began his culinary pursuit at a young age, when his mom got in the way of his sweets-consuming path. However, he thought, "What if I made the desserts? Then I could eat them any time I wanted." Nothing could hinder his passion for baking. At fifteen, he joined his first bakery in New Hampshire. Not long after, his career rose into the catering and hotel industry, where he was both a bread baker and pastry chef. Finally, he worked at Boston University and MIT before arriving on the Circle.
At Groton, Mr. Brook's schedule begins at 5:30 a.m. While most of us are still in bed or doing some last-minute studying, Mr. Brooks is in the kitchen preparing the breakfast muffins before moving on to the bread. Working voraciously, he mixes together liquid and yeast, adds flour and the rest of the ingredients, then mixes the dough "for about seven or eight minutes" before beginning its bulk rise before 7:00 a.m. Mr. Brooks then shapes the loaves before they rise and then transfers them into the convection oven to bake. All the while, he must be mindful that the desserts have been prepared for their respective meals.
One step of the process that cannot be overlooked is deciding which type of bread to make. Because Mr. Brooks has less time on Mondays, he makes a "quick bread." "That's when you'll see banana bread, zucchini bread, [or] cranberry bread." Luckily for us, "Tuesday—I designated it baguette day." Wednesday and Thursday are usually wildcards. "I base the bread choice on what meal might be happening." Finally, Friday is considered sweet bread day.
After deciding what to make, Mr. Brooks must also find a recipe to incarnate his idea. The shelves in his kitchen, crowded with many cookbooks, are an excellent source of inspiration. Ranging from "old church community books" to more technical, modern ones, they all contribute to his culinary creations. Experience also adds recipes to his repertoire. After working in many different kitchens, "I've collected [recipes] over the years, modified them, and used them." Mr. Brooks sometimes also makes them up. He claims that "if you understand what you're using for ingredients, you can make whatever you want." His creative instincts always produce delicious loaves.
Next time, as you wait in line for lunch and hear the laughter as another loaf goes around the horn, remember the hard work picking out recipes, early hours mixing yeast, and toilsome hands that produced such a wonderful delicacy.