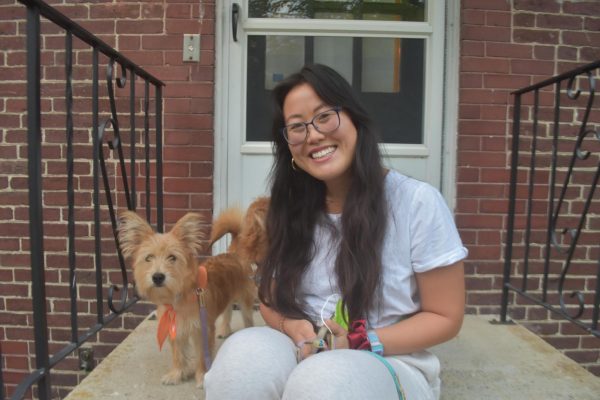 Ms. Ishizuka is stepping onto the Circle for the first time, but this is not her first boarding school experience.
Born in New York City, Ms. Ishizuka moved to Tokyo when she was in first grade. She later moved to Hong Kong in middle school, before returning to the US to attend the Nick Bollettieri Tennis Academy, where she was able to practice her passion intensively. She realized she didn't want to follow the path to become a professional player, so she chose to attend Phillips Academy where her sister and father went. At Andover, Ms. Ishizuka picked up squash and field hockey and formed close connections with people she's still in touch with today. "I loved my time at boarding school, and I gained a sense of independence from this experience," said Ms. Ishizuka. 
During college, Ms. Ishizuka found a love for history and film studies. She decided to study abroad and took a two-month voyage around French Polynesia. "On this journey, I sailed around French Polynesia and learned about the history, culture and ecosystems of these remote islands," she said, "The only downside was the seasickness." After college, Ms. Ishizuka wanted to go into producing and decided to work for an advertising company. However, after a few years, she missed school and learning, so she applied to programs to study history. 
When she was applying to graduate school, she was offered a job to teach as a fellow at Andover, which she accepted. She really enjoyed being back in the classroom and decided to continue teaching at Andover. In addition to teaching history, Ms. Ishizuka was a dorm head and coached the girls varsity squash and girls varsity B tennis teams.
On top of working full time at Andover, Ms. Ishizuka wanted to expand her knowledge and get a higher education. While earning her master's degree, Ms. Ishizuka "gravitated towards 20th century US history through the lens of activism, specifically through art, film, and music." Because of her interest in music and arts and crafts as a kid and social reform movements such as women's suffrage and civil rights, she decided to pursue history through a social justice oriented lens. She wrote her undergraduate honors thesis on Japanese American Internment and how that experience is told through three genres: historical, fiction, memoir, and documentary film. To tie all of her passions together, her final paper in graduate school was about how jazz and hip-hop impacted the fight for racial equality in the 1960s and 1980s. 
"Some of the most impactful activism, in my opinion, has been expressed through art at many points in history," Ms. Ishizuka said, "Art has a special way of speaking to our emotions and telling stories. In many ways, studying history is about understanding people and their stories and recognizing the significance of how they have shaped the world we live in."
After teaching for four years at Andover, Ms. Ishizuka needed a change and wanted to be at an institution where she felt she could grow. Groton's small and welcoming community appealed to her, and she was excited to work with and know students more closely. This year, Ms. Ishizuka plans to incorporate her interests in art, activism, and global perspectives into her classes. Additionally, she will co-coach girls squash with Mr. Das and JV girls tennis, as well as run her own dorm. Ms. Ishizuka is "excited for my next chapter at Groton and is delighted for what's on the horizon."