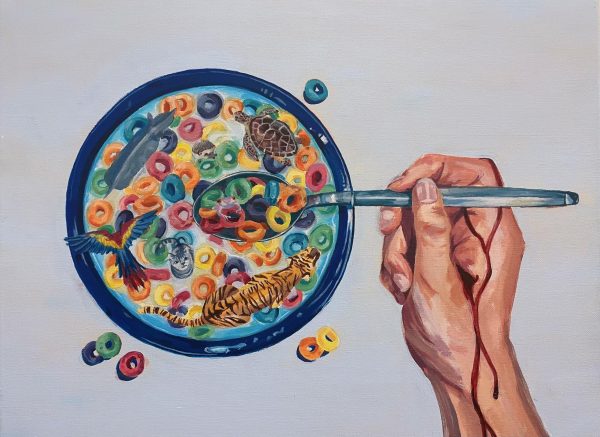 Senior Grotonian Amy Ma '23 has been a noteworthy artist on the Circle since her Second Form year. From creating comic strips for the Circle Voice to writing and illustrating her own book about Australian wildfires this past summer, Amy does it all. In the 2023 Scholastic Art Awards, she won a Gold Key and a Silver Key for two of her submissions. Amy's art has left a permanent mark on the Circle and will be missed greatly next year. 
What inspired/prompted your passion for the visual arts?
I think it started off when I was really young, because I wasn't exactly the most expressive child in terms of using words. So I found art and music, and these other mediums helped me to express myself and to make my voice heard. 
Can you give a description of the concept behind your art portfolio titled The State of Consumption, which received a Scholastic Art Gold Key award?
That was a portfolio that I created last year for AP Drawing . . . which requires a portfolio of 15 pieces surrounding one topic. I picked the idea of consumption, because it's something that I've always been very interested in. Consumption is something that we, by nature, have to do . . . But also, the current trends of consumption in society have led to a lot of negative impacts on both people and the environment. For example, I looked at how the fast food industry was mistreating their workers, especially in terms of wages. I also looked at how hybrid consumption has led to more of a dominance of big tech companies over our lives, and how that could lead to a lot of encroachment on our privacy. Lastly, there's a lot of harm that's being transferred onto the environment and the wildlife surrounding us. I examined the good, the bad, and the in-betweens of consuming things. I use a diverse range of mediums, from charcoal drawings to ink to paintings to digital arts and animation.
What about your mixed media piece titled The Pandemic Bubble, which received a Scholastic Art Silver Key award?
That piece was created for my art class last year called Advanced Studio Art . . . I've always thought bubble wrap was a really funny looking thing that I wanted to incorporate somehow into my artwork. Gradually, I realized that bubble wrap sort of ties into the pandemic during that time when we were in quarantine. So the idea arose that I would paint a bunch of these tiny bubbles with enclosed people doing their own things during the pandemic. It was to have this visualization of what the pandemic and quarantine meant to us.
What is your main inspiration for the pieces you create?
I have found several main sources of inspiration throughout the years. First of all, New Yorker cartoons are really amazing because they teach you how to capture the essence of irony or of storytelling in just one frame, which I think is important if you're an artist. Another source of inspiration is artists that I really like, such as James Jean and Victo Ngai. I mostly like illustrators, especially from Asian backgrounds, because I find that they're able to incorporate both Western and Eastern styles of art.
What are some projects you are currently working on?
I'm doing a self portrait oil painting as the final piece of my time at Groton. It sort of sums up my experiences here, especially how the nature around Groton has impacted me as a person. Beyond that, in the summer, I made a book about Australian wildfires that included a lot of illustrations. Now, I'm gonna focus on coral reef systems in Australia, and hopefully make another book for my series of essentially graphic novels based on the Australian ecosystems.
How has art impacted your experience at Groton?
Art for me has always not been that much about making pretty paintings and more about being able to express myself and challenge other people to think. I think that those two things require a lot more courage than just making a pretty piece of artwork. During my time at Groton, I've been able to find my voice, and I've been able to find out the things that I'm passionate about and how to express those things through art. Working for the CV also helped because I did a lot of cartoons throughout the years. I was able to see which cartoons really hit people, and from that I was able to analyze what things people are able to relate to.