From Sweden to South Africa: Groton Faculty Summer Highlights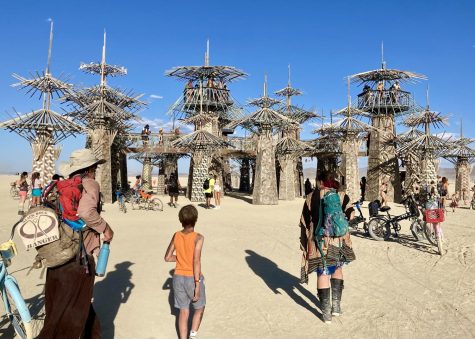 While Groton students savored their summer breaks away from the busy academics of campus, many faculty members also led diverse and engaging lives off the Circle. Unlike what some students may have thought, our teachers do not actually spend their summers devising nefarious multiple-choice questions. Rather, their summers are comprised of an eclectic mix of productive, relaxing, and fun activities.
Many teachers traveled overseas this summer. Dean of Faculty John Conner visited Spain, Colombia, and Mexico, and his son, Jamie, got married in a ceremony in Maine that "lots of family and Groton folks attended."
Art instructor Monika Andersson visited Sweden to meet relatives. "After years of Covid, I was finally able to travel back… to see my family face to face," said Ms. Andersson. "It was very moving to be in the actual presence of my relatives."
Theater director Laurie Sales enjoyed several arts-related trips with her family of four. After attending the Fringe Festival in Scotland, she drove into the desert in Nevada for her family's yearly pilgrimage to Burning Man.
Director of choral music Daniel Moriarty traveled to the Netherlands where he studied improvisation on a historic pipe organ with a German teacher.
Also in Europe, mathematics teacher Michael Gnozzio '03 traveled to England with the boys crew team then later vacationed in Scotland.
Many teachers used the time to pick up old hobbies again. Physics teacher David Prockop spent the summer in Rhode Island, where he fished and woodworked, two pastimes "that I greatly enjoy and have little time for during the school year."
Assistant Director of Admission Kellie Walsh spent time backpacking and fly fishing in Wyoming before hiking with her dog, Riptide, in New Hampshire.
English teacher John Capen swam in Maine, where he also plans to spend his sabbatical teaching college seminars.
Just as how Groton students often pursue extra learning opportunities during the summer, many teachers spent time hard at work. Mathematics teacher Nathaniel White focused on integrating real data into the math curriculum, while Ms. Sales designed an elective inspired by the shows she watched on Broadway. Mr. Gnozzio revamped the AP CS app development unit, and Mr. Prockop developed a new course-planning software.
Many faculty members also dedicated their time to volunteer work. Counselor Abby Frantz worked with Betty the therapy dog to earn full certifications to visit children in need.
History teacher Tommy Lamont spent her summer in Maine and volunteered at a local historical society.
Headmaster Temba Maqubela and Director of Global Education Nishad Das traveled to Paris for the World Leading Schools Association (WLSA) conference. Groton proposed piloting an innovative summer program with a strong global focus involving schools from the US, Australia, China, and more. Mr. Maqubela said that "the idea was embraced" by many other secondary schools, who have already committed financial resources for the proposal. Afterwards, Mr. and Mrs. Maqubela traveled to South Africa to spend a week with family.
With fond memories from the summer and recharged after break, our teachers are ready to lead us into a vibrant fall semester.
Leave a Comment