Returning Full Circle: The Revival of Groton's Reunion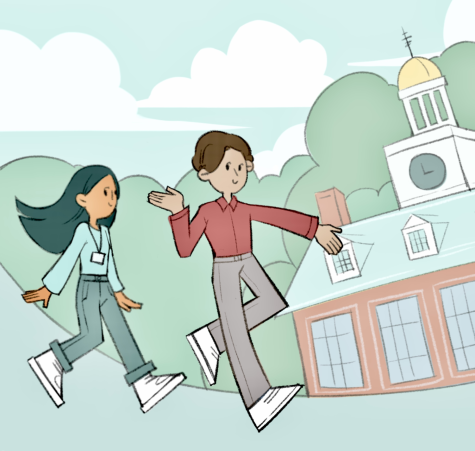 For many students, June 10th will represent the day that a year of hard work will be repaid with a well-earned summer vacation. For the Groton community, though, it will be the return of reunion. Typically, in past years, the festivities marking a year's end would consist of a reunion. For the past two years, however, the Covid-19 pandemic has stood as an impediment to the continuation of the joyous unification of Groton alumni.
This year, however, the much-awaited return of Groton's reunion will finally arrive. All forms ending in zero, one, two, five, six, or seven will be invited to join the Circle from June 10th to June 12th. 
From Friday to Sunday, the reunion will comprise a plethora of activities. On Friday, the Athletic Hall of Fame Ceremony will take place in the Sackett Forum, and a schoolhouse tour will highlight the day. On Saturday, Grotonians will be invited to an early morning tennis session with Varsity Tennis coach John Conner. The afternoon will consist of an array of outdoor activities for alumni such as soccer, crew, softball games, and even a run with cross-country coach and English teacher John Capen. Alumni will also be given the opportunity to relive their days as Groton students, with seminars held by the teachers who are alumni such as Mr. Michael Gnozzio with his applicational mathematics lecture and other Groton scholars—particularly Richard Bradley '82, who authored the New York Times bestselling biography "American Son: A Portrait of John F. Kennedy, Jr." 
The busy day will be capped with a presentation on Groton's response to climate change by teacher Dr. David Black '80, an admissions overview of Groton with the admissions team, and an exciting performance by singer Tom Rush '59, whose 1968 hit "No Regrets" topped charts in Canada and the United States. 
Following a hectic day of activities and a rekindling of Groton memories, Sunday will comprise an anticipated performance by a choir composed of interested alumni and a reunion chapel service led by Chaplain Allison Read. 
Groton plans to offer a "Little Zebras" program for the children of Groton alumni. With a small payment, fully vaccinated children aged five or older will be able to participate in a variety of activities, ranging from sports to arts and crafts. A team of capable Groton students and a professional will take care of the children as the alumni connect. 
The reunion this year is a breath of fresh air for most alumni, as two years of virtual reunions have limited the connections made between Grotonians. Yet, in keeping with Groton's Covid-19 precautions, throughout the reunion, all alumni will be asked to wear masks indoors. Despite the pandemic's persistent perils, Groton School has been diligently working  on returning traditions and
Leave a Comment