Grotonstock is Back and Better Than Ever!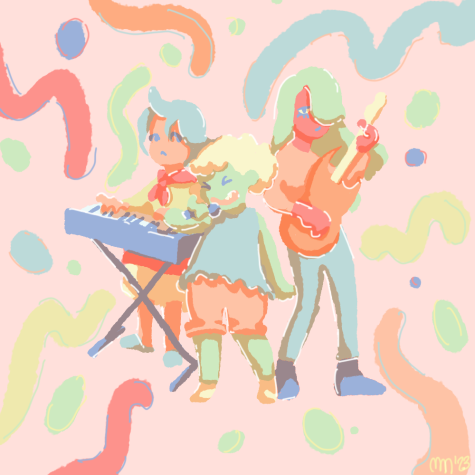 On Saturday, May 21st Grotonstock made a comeback to the circle. A majority of students and faculty sat on the circle in front of the chapel to enjoy the performances. For some, this was their last performance, and for others, the first of many to come. To kick off the night of arts, the Jazz Band exercised their true talent with their rendition of You've Got a Friend in Me and September, along with the rest of a well executed set. This was followed by a performance, from crowd favorite Griffin Elliot '22, of his original song No Show. 
Griffin has delighted the Groton community with his voice and various instrumental talents since his third form year. For his last Open Mic performance, Griffin sang and he accompanied himself by playing the guitar. Something special about Open Mic is the impact artists have on the audience, as well as the reciprocal support they receive from the audience. As Griffin puts it, 
"Everybody at Groton is really supportive, and even if it sucks people will still clap and say you did a good job… there were people days after [a performance] that I didn't even know coming up to me and saying that I did well and it encouraged me to do more."   
Now that Griffin is graduating, we will no longer see him on the Groton stage; however, his performances will live on. Groton's support helped shape Griffin into the amazing musician that he is today, and many more rising artists will most certainly experience the same.
Not long after Griffin's performance, second former Liv Ding '26 bravely stepped up to the mic and gave everyone a good laugh with her stand up comedy routine. At her first Open Mic, she sang with fellow second former Sophia Leng. However, at Grotonstock, she surprised us with stand-up comedy. She described the struggles of being Asian, and even incorporated a hilarious impersonation of her father. Her confidence was particularly admirable considering the fact that this was her first time doing stand-up at Groton. Liv's courage as only a second former presents future opportunities for her to share her art at Groton. She said,
 "I love watching a good performance myself, and I want to give that to the audience. More than having an impact on the audience or being remembered, I just like to make people have fun or feel something in the time that I am performing…"
We can look forward to seeing more rising performers as well as appreciate the past musical gifts presented to the circle. 
Leave a Comment