What's the Best Sour Track?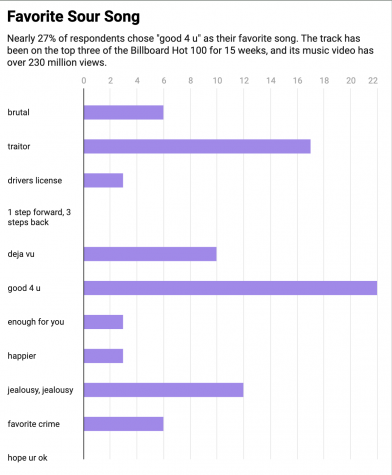 Olivia Rodrigo, an American singer-songwriter, debuted with her first smash-hit album, Sour, setting the record for the biggest opening week for a female artist's album on Spotify with 385 million streams.
In an anonymous poll surveying the Groton student body, students ranked their top three Sour songs, and answered why they liked each track. Eighty-two students participated in the online survey, and overall rankings were determined by each student's first choice. Groton's top five favorite Sour songs, ranked from least favorite to most, are as follows:
#5 – brutal
"brutal" brings a powerful message, addressing the hardships of teenage life. Olivia sings this song with intensity, passion, and a hint of anger, sometimes practicing spoken singing to emphasize the emotions. "All the lyrics are so sincere and you can really tell that she poured her heart out into her music," said one student in a survey response.
This song tied with "favorite crime" at 6 votes—7% of the vote. However, upon inspecting 2nd and 3rd favorite votes respectively, "brutal" was the clear winner. 
#4 – deja vu 
Olivia flaunts a smooth voice and an impressive vocal range as she reflects on her ex's new lover, who is strikingly similar to herself. "There's just something really easy-going and nice about her voice. It's kind of like if Taylor Swift and Noah Cyrus and Miley Cyrus were combined," said one student. 
10 students chose "deja vu"—12% of the overall vote. 
#3 – jealousy, jealousy
"jealousy, jealousy" details the social comparison many young girls face that leads to feelings of inadequacy and envy to fit societal standards. "I think it's just relatable. Being on social media, you see things all the time that make you unhappy with your own life, and this song captures that," commented one student. 
12 students chose "jealousy, jealousy" as their favorite song—15% of the overall vote.
#2 – traitor 
From the first gut-wrenching line of the chorus, "you betrayed me," the hurt in Olivia's voice sends chills up the listener's spine as she laments her ex and their ease in moving on. "Her music gives out real soul and emotion," wrote a student. 
17 students chose "traitor" as their favorite song—21% of the overall vote. 
#1 – good 4 u 
"good 4 u," a pop-rock anthem of self-empowerment, embraces the resentment and anger from seeing an ex move on. "Although the overall meaning of the song is sad, it's upbeat and something that makes you want to sing your heart out," said a student. Another student noted that the style of this song compared to other tracks "showed Rodrigo's versatility." 
The most popular 1st, 2nd, and 3rd choice, "good 4 u" received 22 votes—27% of the overall vote. 
Leave a Comment