Summer Student Arts Projects
Groton artists continue to flourish despite the various disruptions Covid-19 has caused, fine-tuning their crafts during a productive summer holiday. (for the print version) To experience the full scope of these projects, visit thecirclevoice.org for a multimedia experience.
Visual Arts
Finding inspiration in nature and society, Groton's visual artists spent time this summer to nurture their interests via online courses and exciting projects.
In Japan, Noemi Iwasaki '22 explored natural history illustrations with an online course. 
Her watercolor painting of mushrooms on a log was created spontaneously on one of her daily hikes in the local mountains. Having spent the spring term and summer at home, Noemi focused most of her artistic expression on self-portraits, still life, and her surroundings. Being back home allowed her to reconnect with all the beautiful things in Japan.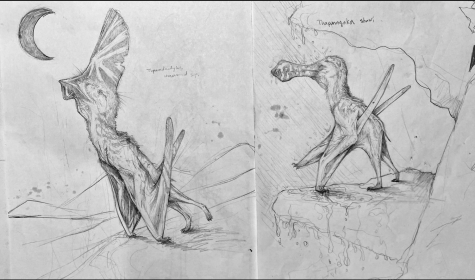 Amy Sharma '23 similarly focused on the natural world, capturing her longtime interest in the evolution of "flying things" with her paleontology art. First conducting thorough research on the subjects of her drawings, her sketch features two recently discovered Pterosaur species. Often seeing double meanings in aspects of science, Amy seeks to connect science and art through her paleo-art. 
Focusing on human nature, Amy Ma '23 worked on a multimedia social commentary series. One of her projects is a fully-functioning vending machine constructed from cardboard and basic circuitry. The machine dispenses booklets on how to make keys; however, in order to access the booklets, users must have a key to operate the machine, representing the paradoxical inequality of the American education system. "Schools always aim to teach us how to make money – but in order to access an education, you need money in the first place,"explained Amy.
Music
As widespread vaccination facilitated the reopening of cities around the world, Groton musicians have used the opportunity to gain precious performance experience and to further their musical interests.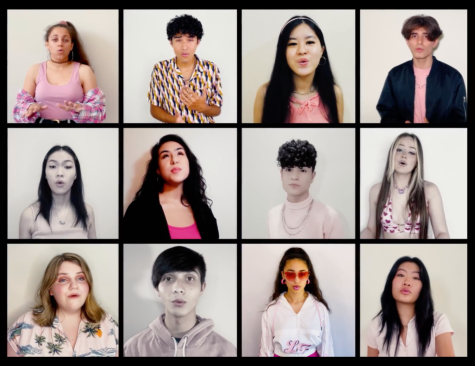 Allison Jiang '22 pursued her interest in singing this summer at the virtually-hosted A Cappella Academy. She worked in a self-titled group, ROSÉ, that sang a medley of R&B songs by Alicia Keys, Usher, and Ella Mai.  Boo Mash Up — ROSÉ
Meanwhile, Griffin Elliott '22 spent weekends on the patio of Bailey's Bar and Grill in Townsend, MA with his keyboard, mic, and tip jar. As a resident singer-songwriter, he played a rotation of crowd pleasers and some of his own musical creations that he continues to write at home. You can listen to his self-recorded album Bitter Crooner at: https://thenothingheadsband.bandcamp.com/
Elizabeth Wolfram '23 found her audience at the Interlochen Center for Arts in Michigan, where she fine-tuned her piano skills. Renowned for its rich summer arts programs, the lakeside camp provided an intensity that yielded significant improvement in her Liszt piece. Frequent Open Mic opportunities also served as a stage for her guitar and voice compositions. Her main project is "Happy," a song inspired by joyful memories at Groton.
Max Fan '25 enhanced his piano performance skills by playing biweekly at multiple local senior homes in California. Believing that the appreciation of music is an "ability unique to humanity" that can connect residents of the senior home to the world outside, Max hopes that his music can evoke long-forgotten emotions in his elderly listeners.
With a newfound appreciation for singing due to a lack of choral music in the school year, Ebun Lawore '24 took time to learn and perfect her craft by herself, focusing on expanding her vocal range and the versatility of her voice. She plans to return to the Circle with fresh postlude and Open Mic performances with Afrika Gaye '24.
Leave a Comment