Groton's Covid-19 Plan in the Past and Present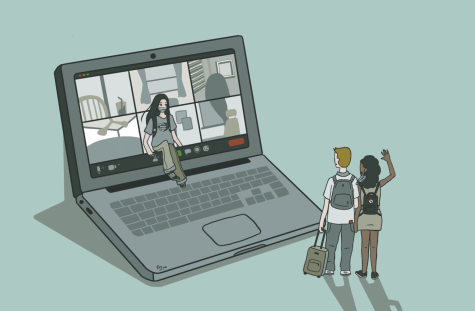 Credit to Amy Ma '23
As the new school year begins, a look back on the hard work of Groton's faculty and staff shows the accomplishments of the past year of in-person learning. 
In order to see students back on campus during extraordinary circumstances, three entities worked behind the scenes: the School Opening Health Advisory Group (or SOHAG, comprised of Mr. Anderson, Mr. O'Donnell, Ms. Harlan, Mrs. O'Neil-Britt, consulting physician Dr. Allende-Richter, and three trustees in the medical field), the Task Force (Mr. Anderson, Mr. Gracey, Mr. O'Donnell, Ms. Harlan, and Ms. Leggat), and the headmaster, Mr. Maqubela.
Mr. Maqubela spearheaded last year's push for in-person learning with his strong conviction in Groton's ability to stay one step ahead of the pandemic. Prior to the fall of 2020, SOHAG met five times with health professionals to advise Mr. Maqubela. To formulate and execute plans for the school year, the Task Force met 42 times during the course of the 2020 summer to discuss every little detail, from Saturday night activities to mealtime arrangements. 
Examples of the Task Force's work include measuring each classroom in the schoolhouse to make social distancing possible and researching CDC guidelines to remain informed of every pandemic development. On average, roughly 600 PCR tests were administered per week at Groton via the Broad Institute of MIT and Harvard. Every night, students underwent a routine health check and updated their status in SaferMe, a contact-tracing app.
The comprehensive safety measures Groton undertook ultimately paid off. When infections occurred, the Health Center promptly isolated positive cases and the school managed to avoid any major Covid-19 outbreaks. Given the solid experience that a successful year on campus has provided, neither committee will operate this year. 
Additionally, the increased protection that comes with required vaccinations means that Groton has taken the first steps towards a return to normalcy on the Circle. This summer, rising Fourth Formers enjoyed GRACE learning on campus. Athletes can expect a fairly regular season with preseason and weekly competitions, and masking will only be required indoors (as long as outdoor social distancing is possible, and no unvaccinated children are present). The once closed campus will now allow short faculty-supervised off-campus trips, and day students will rejoin the dorm communities.
As always, the pandemic situation is constantly evolving. Despite the protection that vaccines have provided, breakthrough infections are still a major concern, especially with the highly transmissible Delta variant. 
"The first month of reopening is very much a trial period," Mr. Anderson said. "If the situation changes, the administration will adapt its protocol accordingly." This means that activities integral to Groton such as whole school in-person chapel, choir, and jazz combo which currently bear the brunt of Covid-19 restrictions will return if conditions improve.
Undeniably, the Groton community will gather together on the Circle for yet another productive year. Even in these unpredictable times, students and faculty will be reunited once again in a year more liberating than the one before.
Leave a Comment