Spotlight on Summer Arts Projects
While the pandemic restrains the range of our daily activities, many Grotonians have utilized this summer to pursue creative endeavors. An increase in downtime allows for projects which had usually been impossible due to their heavy time demand. Here are some of the art projects that fellow students have created during the summer.
Visual Arts
With wealth inequality becoming apparent during the pandemic, Isabel Cai '21 decided to target this issue through art. Experimenting with unconventional art mediums such as rice, she says she aims to juxtapose "the daily income wage gap between billionaires such as Jeff Bezos and millions of people living under the poverty line."
Also inspired by the pandemic, Angela Wei '21 created zines and paintings based on both her personal experiences in quarantine and the greater changes she sees in the world. She expressed her ideas through bright colors, interesting characters, and humorous narratives.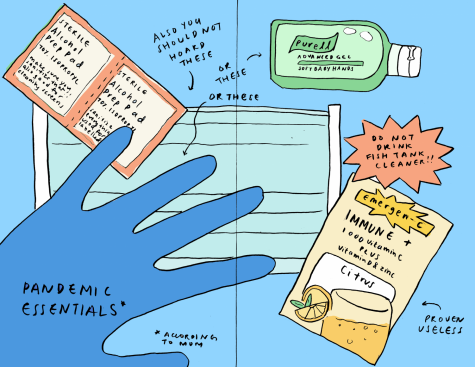 Fashion
Passionate about fashion design, Janice Zhai '21 created a clothing collection based on animals within the musical suite The Carnival of the Animals by Camille Saint-Saëns. She transformed musical notes into tangible fabric by conveying the personality which she believed the pieces expressed. For example, she chose a bright color palette in order to reflect the energetic, staccato chords that one movement conveyed. She also took inspiration from the animal that each movement described, such as big, flowy pants from a kangaroo.
Alex Karr '21 also channeled her creativity into fashion design. She reimagined and transformed thrifted old clothes into new and polished garments with a focus on upcycling. "My favorite projects were old men's shirts transformed into dresses and sets," says Alex.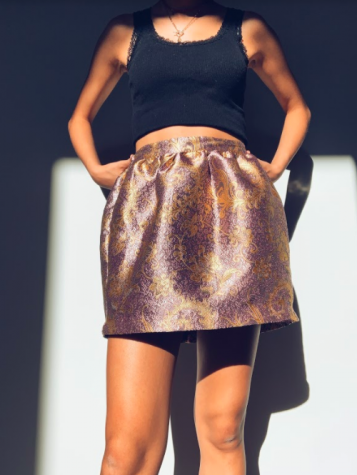 Music 
Regular Open Mic performer Elizabeth Wolfram '23 has continued to write new songs during the summer, even working on an album. Inspired by her social-distancing experiences, her original song "All Over" is both a reminiscence about the past and a hopeful promise of the future. In a time when everyone is so fixated on negativity, she desires to shine a light of optimism through her lyrics and rosy tune.
Ben Reyes '23 has been composing a flute concerto in which he aims to tell a story through tones. His story focuses on the concept of searching but not finding, although he desires his story "to be vague enough for creative interpretation". 
Film
Yuen Ning Chang '21 worked on the post production of her two documentary projects. Both films are focused on the Zamtang people of the Tibetan highlands of Sichuan, China. She introduces the culture of the ethnic group through Thangka paintings and Tibetan traditional medicine while also bringing to light "the challenges they face trying to balance between cultural preservation and economic development," as Yuen Ning explains.
The pandemic has affected creative expression in many ways. Ample amounts of at-home downtime paired with copious current events and inspirations led this summer to become a truly unique time of creation. If you have a project of your own, submit it to the Circle Voice to be featured in the next issue.