John Donovan's Lasting Imprint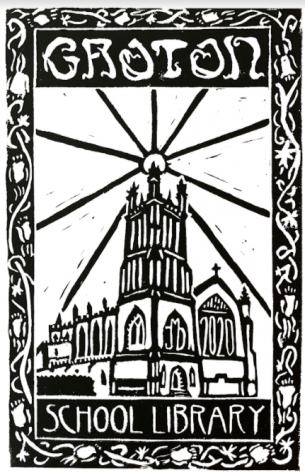 John Donovan '20 is a gifted and passionate artist with talents ranging from stagecraft to painting to drawing. Adding to his many artistic accomplishments, John has recently won this year's Groton Library bookplate competition with his block print chapel design. Mr. Melchior decided to start this competition for the school's art prefects last year after looking for more student input around the library.
The school's library collection has a bookplate in every book. Some show ownership in case the books get lost, and others in donated books list the donor's name in appreciation. The bookplate design has changed over the last two years; for the 2019-20 school year it was a design of the schoolhouse clock by Sophie Park '19.
John chose to depict the chapel because it's a symbol of Groton that is familiar to everyone. The first step in the design process was to take pictures of the chapel. "I wanted a dynamic angle on the chapel—one that wasn't face-on and boring," said John. He did his research and came across some 1920s art nouveau bookplates with intricate organic designs. The border of the bookplate, on the other hand, is very linear and geometric. The twisting, asymmetric vines contrast the symmetric, straight lines of the chapel. 
After finalizing the design, John decided to make the bookplate using the block print technique. Block prints are created using big pads of rubber carved with a special v-shaped knife tool. Whatever is carved away becomes the negative space or the white part of the image. When the image is transferred, it is flipped horizontally, so John had to trace the design backward so the words and chapel wouldn't be upside down. After that, he spread printing ink over the block with a roller. John then placed the block ink-side-down on a piece of Bristol board – a type of cardboard poster board – and it was complete.
Mr. Melchior chose John's design for many reasons: "John's design shows an artistic style that reflects an appreciation for earlier schools of design—I'm thinking of art nouveau and art deco. It is such a striking image with the sunbeams shining over the chapel."
John's bookplate will be displayed in all of the library's new books this coming school year. And in the words of Mr. Melchior, "What's not to like about it?"