From Boarding School to Baywatch
A Feature on Groton's Alexandra Paul '81
Not many Grotonians know that along with FDR '00 and Candace Nelson '91, one of Groton's better-known alumni is Alexandra Paul, one of the stars of the original "Baywatch" series. Born in New York, Paul arrived at Groton as a Third Former and graduated in '81.
Although she would later go on to make a career of acting, she had little to no dramatic aspiration while at Groton. She only appeared in two theatrical productions while in high school and "was terrified both times."
Following Prize Day, she decided to take a gap year and moved to New York City to model. While working in the city, she eventually landed a role in the successful TV movie "Paper Dolls." She then decided to forgo college in order to pursue her career full time, "I felt like I needed to take advantage of my momentum."
"Paper Dolls" was just the beginning of a successful acting career for Alexandra Paul. She later went on to star in movies such as Stephen King's "Christine," "American Flyers" with Kevin Costner, "8 Million Ways to Die" alongside Jeff Bridges, and "Dragnet" with Tom Hanks.
Although she was generally cast as the "girl next door" or the "put-together woman," the roles she most enjoyed were the ones that she claims, "differ from my own character."
Despite her success in movies, Paul is most famous for her role as Lieutenant Stephanie Holden on the hit TV show "Baywatch." She played the role for five years, co-starring with both David Hasselhoff and Pamela Anderson. Set along the Los Angeles shoreline, the show followed a group of lifeguards in their day-to-day lives. The show was originally pulled from NBC's prime time slot, and then quickly relaunched by David Hasselhoff, where it found its fame.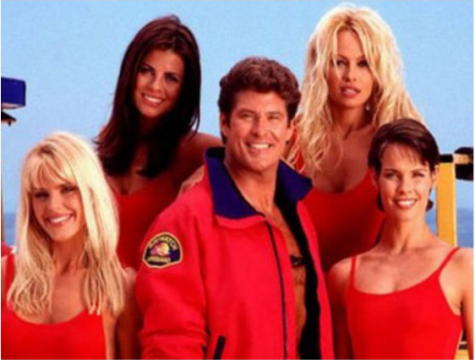 Although the show had excellent ratings, tabloids and paparazzi were not as prevalent in the nineties as they are now, so the spotlight was not quite as harsh for Alexandra. "Fame was very different back then," she said. "There wasn't that craziness; you could still have a private life. Nowadays, there would be paparazzi chasing you."
Despite being considered a pop-culture icon, according to Ms. Paul, back when "Baywatch" aired in the United States, "it was not a respected show. It was considered very frivolous." While the show received criticism in America, overseas it was a different story, "It was a microcosm of what was happening globally," Paul explained. One of the first American TV shows to be broadcasted globally, "Batwatch" had a huge impact on feminism and views of America abroad, especially in conservative countries like China and Iran. Ms. Paul said, "It was cool to have been on a show that broke so many barriers."
Overall, Ms. Paul's experience playing Stephanie Holden was a good one, "It was wonderful to be on [Baywatch]. The feeling of the show was very positive and upbeat; David Hasselhoff is a very funny guy."
Although the show has fallen out of the spotlight since its end in 2001, "Baywatch" still holds the title of the most-watched TV show of all time according to "The Huffington Post," with over one billion people watching in almost one hundred and fifty countries.
With news of a new "Baywatch" movie premiering in 2017, excitement about the release has already started to grow. Paul said, "Next year it's going to be all the rage: a whole new generation will learn about the show." Actress Ilfenesh Hadera, who starred in Spike Lee's "Oldboy," is set to play Alexandra's character. The movie will also feature Zac Efron, Dwayne Johnson, and Priyanka Chopra.
More recently, Ms. Paul has shifted her focus to activism. While at Groton, she was president of Groton's Energy Committee and was politically active around campus. Nowadays, she focuses mostly on two issues: animal rights and human overpopulation. In fact, a few years after she graduated from Groton, Paul was invited to return to the Circle by Dr. Black to talk about overpopulation.
"Go to college first," Paul said when asked to advise the aspiring actresses and actors on campus. "It's important to be well-rounded. Read a lot about people, be curious, and learn how to dance and sing! Acting is more than just a skill; it's about learning what kind of person you are."