Restoration in the Gardner Room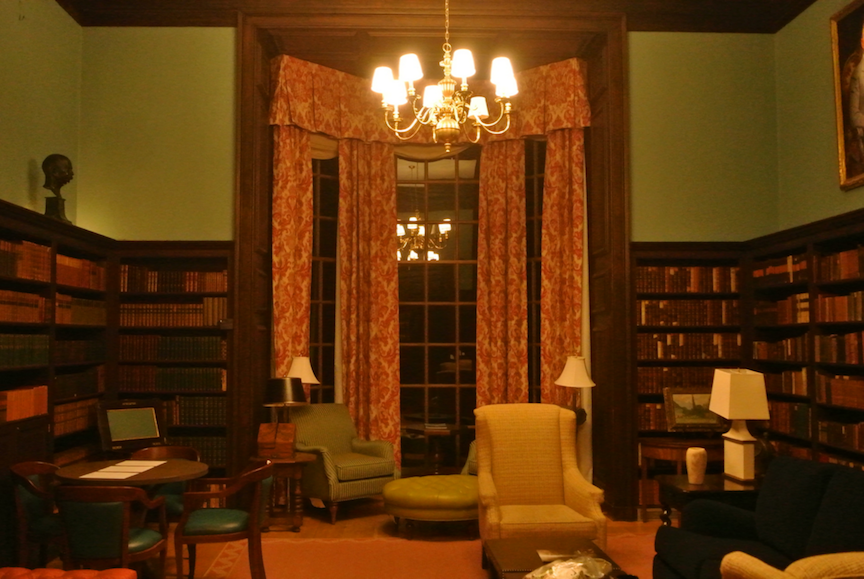 Over the course of the past several weeks, the Gardner Room has received a much needed facelift. At the end of the cleaning process, a secret chamber was discovered behind the shelves. For those cleaning the Gardner Room in the future, it may be worth keeping an eye out for an adjacent pocket tucked subtly away.
The Gardner Room is home to the most interesting books Groton has in its collection, almost all of which belonged to Mr. William Amory Gardner, a classics teacher and core figure during Groton's early days.
Mr. Luke Pontifell, this year's Mudge Fellow and the founder of Thornwillow Press in New York, orchestrated the operation. Early in his residency, he visited the room and realized what a poor state the books were in because no one knew how to properly care for them. He knew immediately that something had to be done, and drafted Mr. Capen to help organize a group of student volunteers to help with the project.
The first meeting of Mr. Capen's hand-picked students (and some faculty members as well) was an overview about what the project would entail. Mr. Pontifell showcased some of the rarest and most spectacular books in the collection while plucking old conference cookies and paper cups from the shelves, proving his point that these priceless volumes were seriously neglected.
Most of the student body has no idea how remarkable the books that the collection houses are. There are works printed by Aldus Manutius in the early sixteenth century, set in exquisite Greek and Latin type with intricate leather bindings, which complement numerous beautiful editions of "Don Quixote," Dante, and Chaucer, to name a few.
The room also houses slightly more contemporary works, such as first editions of Willa Cather, early editions of Jane Austen, and the complete works of Anthony Trollop. One of Mr. Pontifell's personal favorites is a seventeenth century book on how to identify witches and what to do once one is in custody.
Mr. Pontifell's wish to restore the room comes from his firm opinion that the community should actually put these historic books to use, thus ensuring that they will be around for the school to use for years to come. He says, "In this age of disposable and intangible information, it becomes relevant to have tangible objects so that you can literally touch history." The book printer believes that "objects have souls. When books memorialize ideals, they memorialize a relationship for the future… and Groton's books memorialize the relationship Mr. Gardner had with the school."
This outlook for once again turning toward the school's impressive print volumes for use in class was exemplified by his work with Mr. Bannard's Latin sections this winter. The Latin 3 students had to recite the first section of Cicero's "Catilinarian Orations," so Mr. Pontifell pulled various copies from the Gardner room, showing the differences in the speech over five hundred years of printing.
The room also serves as a history of Groton and of Mr. Gardner himself. Hidden among the books is various detritus. According to Angus Warren '16, who headed the project after Mr. Pontifell's residency came to an end, the assortment of this hodgepodge included "a calling card belonging to Mr. Gardner himself, a poem transcribed by an old Groton Boy, and a piece of stationary belonging to a former master," among other things.
The books themselves also hold bits of collected history in addition to their texts. Angus found a genealogy of pagan gods in a volume of Greek poetry, most likely written in by Mr. Gardner in the early 1900s, and Mr. Harmon found a "very humorous" note written by Mr. Gardner in his old trigonometry textbook. Perhaps one of the most interesting bits found in a book is a signature believed to be that of a young Anna Eleanor Roosevelt accompanied by a note reading "given by Mrs. Roosevelt" in Mr. Gardner's scrawl.
The restoration itself, quickly opened up to anyone on campus with a particular interest in the project, included the reorganization of books according to subject and the physical cleaning of books and shelves. As Angus says, "Whereas a conventional library is arranged by subject and Dewey Decimal, a formal library like that in the Gardner Room is arranged only roughly by subject (i.e., a shelf of mostly French books or a case full of Classics) and then by size, giving each shelf a more graceful and elegant appearance. Moreover, simply shifting books to the front of the shelf instead of pushing them against the back wall has noticeably brightened the room; spaces that were previously shadowy are now filled in with books."
The books were all dusted off carefully and the shelves thoroughly scrubbed, all to prevent the many years' worth of accumulated dust from further damaging the volumes. They have also all been properly placed standing up on the shelves to ensure that bindings do not become more misshapen than they already have, especially those made of vellum, which tend to deform when stored at awkward leaning angles.
This phase of the restoration is now over, but Mr. Pontifell hopes that students will continue to take care of this valuable collection.
Each book should be properly handled and stored, which includes always standing books upright and using bookends if need be, never pulling books from the top of the spine, and not keeping them in glass cases. The heat from such a case, Mr. Pontifell explained, causes spines and pages to shift out of proper shape.
The next step in the ultimate restoration project is to re-catalogue the entire collection, because the last catalogue was done sometime in the sixties or seventies.
Mr. Pontifell also hopes that eventually an Archive Prefect position will be added so that a student has a specific job of making sure the volumes do not go to waste.