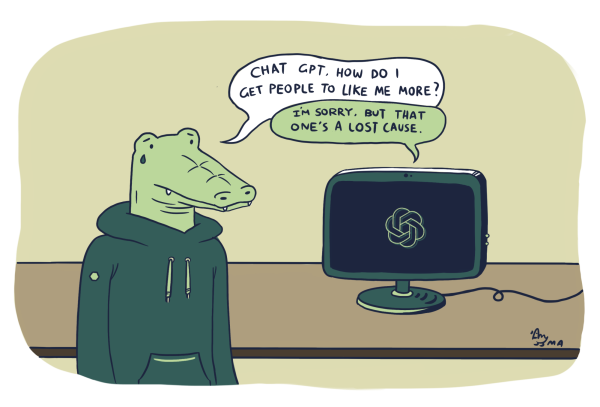 If you scroll down any major news publication, you would inevitably find a new influx of articles on ChatGPT. Artificial intelligence Chatbots like ChatGPT are dominating the discourse in society today, including our own Groton Community, and for good reason. ChatGPT provides a powerful tool to expedite how our Groton students and teachers learn and teach, and our currently unlimited access to the software opens the doors to a future of possibility and uncertainty. With AI like ChatGPT, the ways we live, think, and interact are all bound to change; there are limitless opportunities and pathways for innovation, but also vulnerabilities to dependence and computational errors.
For all of its strengths, ChatGPT is a double-edged sword. Complex questions arise on a wide range of topic, with only a few concrete answers. Verifying an author's authenticity is problematic, let alone understanding veritas when an AI chatbot derives information.
The Groton community has been debating its merits and the best way to leverage the benefits of using chatbots within Groton's established learning pedagogy. Ms. Sen Das, Head of the English department, Mr. Battis, Head of the IT Department, and Ms. Leggat, Head of Academics, feel that it would be difficult to manage if ChatGPT is completely disallowed. Valid concerns rise pertaining to the extent to which students employ the tool. As Ms. Leggat puts it, she feels that the emphasis should be placed on the "enormous value of learning to write on one's own, to be able to put forth one's own ideas and to take pride in one's own work." The work produced by ChatGPT is wholly produced by the computer, meaning that student's only have to input a prompt given by a teacher. Even students, such as third former Katrina and second former Lena, understand the importance of one's own creative abilities and that chatbot, like ChatGPT, should be "limited unless they are given explicit permission from their teachers."
At Groton and in the distant futures of many Grotonions, ChatGPT figures to play a key role in our curriculums and modern industries. As Mr. Belsky, the Head of the Science Department, voices,"if too many challenges are removed by technology [or by other means], real intellectual growth can be stunted by a false sense of accomplishment." Inevitably, standards and expectations for innovations and accomplishments are bound to change, and it will be up to Groton's blossoming student body to harness the novel technology to its advantage.