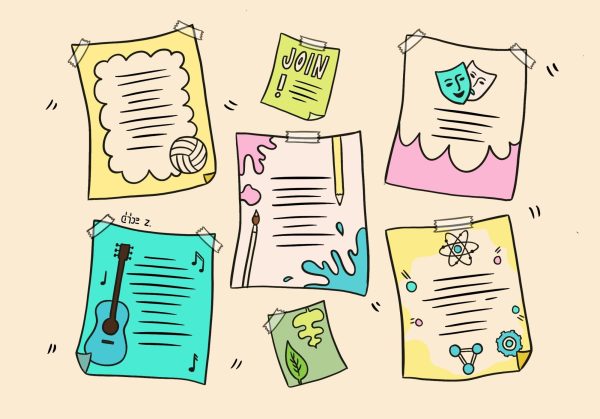 The new clubs being created today at Groton reflect the student body's unique interests. These new clubs exemplify not only the racial and ethnic diversity at Groton but also our interests and ideologies. 
Current Events Club, founded by Kritika Aryal '24 and Ella Farahnakian '25, was created with the vision of a space for Groton students to voice their ideas/opinions, no matter how controversial they may be. Ella felt "there was no space to discuss current event issues and talk about their experiences while learning, especially in the classroom." Kritika adds, "Groton feels like a bubble […] often I get a lot of information about current events [from] my dad." One uniqueness of current events club that appeals to many is not only informing oneself, but also others, as most of the learning that occurs results from the discussion-oriented approach. What keeps people coming back is Kritika and Ella's choice of topics that Groton students feel strongly about and their willingness to collaborate with other clubs. Some of their most recent meetings include collaborating with the Gender Sexuality Alliance and the History Club, discussing the World Cup's humanitarian crisis in Qatar and the recent unrest in South America. Current Events Club has held many successful meetings and plans to do more collaborations in the future.
Collaborating is a significant part of the plan for Groton Food and Farming founders Sara Agrawal '25 and Zoë Friedland '25, who already had significant sustainability and cultivation experience before Groton: they went to camp and farmed using sustainable methods together at a family friend's house over the summer. Both Sara and Zoë have many auspicious goals for Groton School and Groton's community to become sustainable. However, for such a significant shift, Sara and Zoë believe that the change starts with engaging Groton students. They plan to work with Our Father's House, a local soup kitchen, and glean at local farms. According to Zoë, "over 30% of food is wasted on farms because there isn't enough demand or labor to harvest the food." Groton Food and Farming plans to donate this unharvested food to local soup pantries and schools. Through Sara and Zoë's ample experience and dedication, Groton's sustainable food consumption will soon be in a better place.
The Groton branch of Scherzo Music Foundation, co-led by Brittany Deng '24 and Max Fan '25, was founded to spread their love of music throughout the New England community. And they are doing just that. Brittany and Max were motivated by the need for interscholastic collaboration in music and wanted to create more musical opportunities for schools in the New England area. Along with musicians at Exeter and Andover, Brittany "wants to make it possible for musicians in different schools to collaborate and form bonds with people whose interests align with theirs, creating a space for developing musicians to grow and be inspired." But not only is Scherzo an opportunity for musicians to develop, it also shares these young musicians' gifts with the community. From the recent culture showcase to the interscholastic festival in a few weeks to frequent retirement home visits, Scherzo encompasses all manners of volunteer work and music-making.
Although these clubs are founded for many diverse pursuits and objectives, they have all been established with one ultimate goal: to serve the community. After all, cui servīre est regnāre, right?