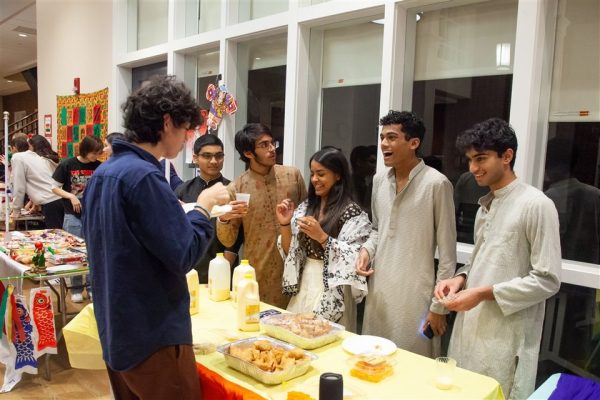 After a long-awaited return, Groton's Cultural Night made its comeback, culminating in musical performances, rich cuisines, and dancing. As students represented their countries, the forum was filled with a vibrancy of different cultures. Cultural Night allowed Groton's community to express their own backgrounds and learn about various traditions, customs, and the diverse identities of their peers.
Throughout the evening, students wandered around the forum, collecting stamps in their pretend passports by answering trivia questions about each country correctly. Additionally, they sampled food from a plethora of cuisines. Kogo Bennison '24 said, "It was a cool opportunity to share my culture with everyone and introduce people to Egyptian foods such as Basbousa." Cultural Night allowed the Groton community to connect on a different level. Kritika Aryal '24 remarked, "It was an eye-opening experience. It gave me a sense of belonging and helped me realize that there are many people at Groton who are diverse in their backgrounds." Kritika brought her Mamu's aloo (Nepali seasoned potatoes) and chili chicken, which is customary to her family's Nepali heritage.
At the Ireland table, Sydney Senerchia '24 and Jessica Lee '24 shared an Irish classic: brown bread and butter. Sydney also brought a set of wooden sticks and a small ball for people to play hurling, a traditional Irish game. Daisy Adinkrah '24 and Jaden Adinkrah '23 shared Ghanaian dishes such as jollof rice, kelewele, and bofrot. Daisy said, "Speaking to people and watching them answer trivia questions was super entertaining." Osric King '23, who ran the Costa Rica and Jamaica tables, shared that he "enjoyed educating people about the countries I represent."
Led by the Boston Bollywood dance company, students came together to learn a popular Bollywood dance at the end of the evening. Everyone crowded the forum to learn the choreography and perform for those in the audience. Additionally, students performed songs and played music that is popular in Caribbean, African, and Asian cultures. Brenda Li '25 sang "Qing Hua Chi" ("Blue and White Porcelain") and was accompanied by Brittany Deng '24 on the guzheng, a Chinese plucked guitar. Brenda Li '25 said, "It was a nice way to share my cultural identity and introduce people to an instrument that isn't as well known." Based on the positive feedback from Cultural Night, Groton hopes to create more occasions for students to come together and celebrate the intricacies of our colorful cultures.