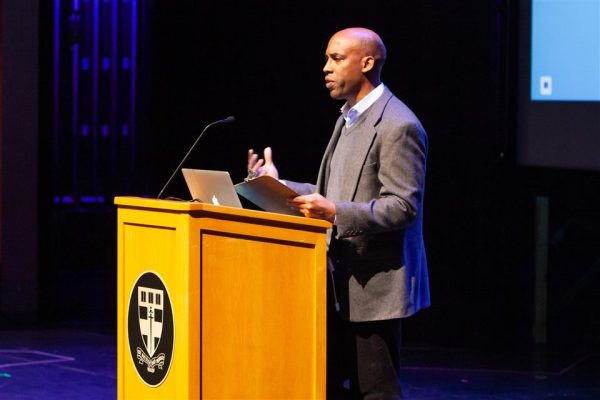 On January 10, Dr. Christopher Brown of Columbia University arrived on Groton's campus to give a Circle Talk on "The Long Legacy of the Trans-Atlantic Slave Trade." Dr. Brown is a professor of history at Columbia University. After receiving his D. Phil. from Oxford University, Dr. Brown began exploring the British empire and eventually directed his research in the detailed history of slavery. Currently, he has published three books titled Failed State, Rule of Capture, Tropic of Kansas, and countless articles on matters ranging from eighteenth-century campaigns against slavery to the politics of slavery. An established scholar, Dr. Brown offered Groton students a rare opportunity to deepen their curiosity in the important history of African-American oppression.
As concisely stated by Ms. Tommy Lamont, history instructor and leader of the Speakers' Committee, Circle Talks are meant to bring "individuals whose expertise and personal experience both inform and inspire" to the Circle. In the case of Dr. Brown, a leading expert on the history of the African Diaspora, it became apparent that he was a perfect fit when the opportunity presented itself. 
During the talk, Dr. Brown offered students insight into the Trans-Atlantic slave trade and how the impacts still hold relevant to this day. As Damien Man '26 puts it, he was compelled by how "Dr. Brown was able to connect such important history and emotional stories with modern institutions." Among these examples was a recollection of his journey to the Door of No Return in Senegal. There, he explains how he felt a sensation or, rather, a connection, that he had never felt before to the history that he had dedicated years to studying and understanding. 
Ms. Lamont sensed that many people enjoyed and appreciated Dr. Brown's talk, especially that he "took the time and effort to get to know our community and tailored his remarks for Groton School students." Following the talk, Dr. Brown offered time for students to find him in the forum and continue conversations or answer any relevant questions. As Max Fan '25 added, Dr. Brown's willingness to "share parts of his life and personal story" greatly added to the experience.
For Groton students, the privilege of having Dr. Brown come to speak on campus was truly special. His willingness to share such sensitive, yet monumental historical perspectives and ability to so effectively connect the past to contemporary issues came together for a phenomenal Circle Talk. 
Under the guidance of Ms. Lamont, the Speakers' Committee will continue to strive to bring established scholars and figures that offer Groton students a variety of perspectives and help spark curiosity in crucial conversations.