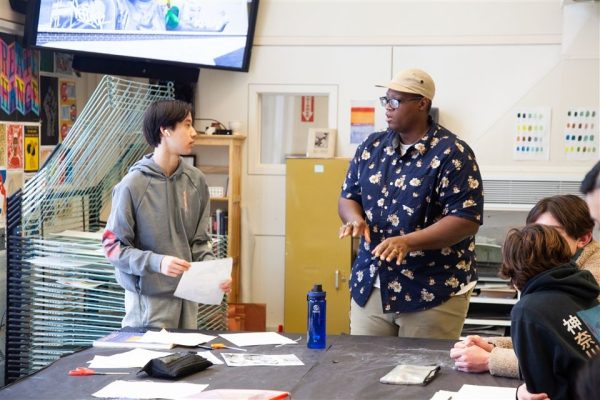 A row of vivid red roses lines one side of the de Menil Gallery walls, while six large name tags and a series of monochrome portraits cover another. Street Memorials by Cedric Douglas, this year's Mudge Fellow, focuses on the contemporary, nationwide killings of Black people, highlighting the dangerous impact of racial injustice on the Black community. While the exhibition covers themeslike police shootings or hate crimes, Mr. Douglas does not intend for it to create judgment or accusations; instead, Street Memorials prompts viewers to ponder important questions about the value of each human life: "How do we all come together to stop institutional racism? How do we work as a nation to ensure that everyone has a fair trial?"
Mr. Douglas grew up in Roxbury, Massachusetts, where he first learned graffiti art from his uncle. In the early 1990s, he would inscribe his artistic name, "Vise1," or Visually Intercepting Society's Emotions, on neglected surfaces throughout the city. But after he got arrested for painting on a rundown basketball court at sixteen, Mr. Douglas decided to find alternative outputs for his creativity and artwork.
"It was important for us to feature a Boston-based artist who worked with non-traditional mediums, like street art," explained Ms. Jennifer Ho, the visual arts faculty and co-director of the Christopher Brodigan gallery. "The term 'street artist' extends beyond graffiti work and uses the public viewers to engage with the work, whether it be a series of murals, interactive pieces, or communityeducation."
While attending the Massachusetts College of Art and Design, Mr. Douglas was inspired by his professor Chaz Maviyane-Davies, a renowned social activist poster designer, to create public art centered around social change. Nowadays, Mr. Douglas is widely recognized for his large-scale murals and portraits, a style he terms "Social Realism," though more recently, he has also expanded into other forms of public artwork. For example, Street Memorials showcases tambourines with the portraits of victims of the Charleston shooting and yellow police tape with the last words of murder victims.
The Mudge Fellowship was established in 1992 to allow Groton students to engage with and gain inspiration from professional artists. Ms. Ho described this year's fellowship as "an immersive experience," where students had many opportunities to meet Mr. Douglas, including "an engaging opening reception with his work, an artist talk in the forum, and smaller dialogues throughout the week." Third Form art students also had the opportunity to work on projects with Mr. Douglas; Kevin Cai '26 said he learned a "creative and unique way to express stories" after working on transfer art with Mr. Douglas.
"The concept to me is the most valuable part of the work," said Mr. Douglas when asked about what lessons he hoped to inspire in younger artists. "Hopefully the work that I'm showing is getting a lot of the students to think about how art isn't just a painting. It can be a rose, it can be a sign, it can be metaphorical, it can be a lot of different ways to communicate."