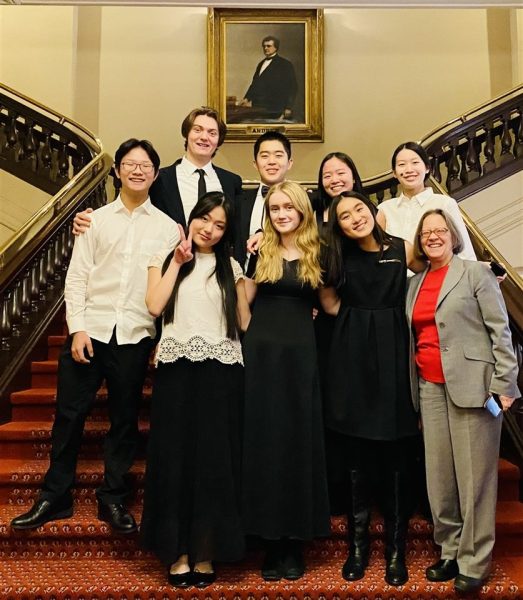 Doug Miller is a memorable man. He calls himself the "bald old guy" and likes to boast about being able to tie his own bow ties. He retired from teaching music in 2019, just before the pandemic hit.
"But I'm back!" Doug proclaimed loudly, waving his arms like a windmill. "I'm back for 2023, and all because of you young people. We've finally returned to normal, so I had to un-retire to manage the Massachusetts District Festival!"
During the Massachusetts District Festival, towns all across Massachusetts hold auditions for orchestra, jazz, or choir. The student musicians who are accepted meet for one grueling week in January to prepare for the district concert. Groton competes in the Central District, along with Shrewsbury, Southborough, Sudbury, and a number of other neighboring towns. Students hail from public and private high schools and play a dizzying variety of instruments. 
Auditions for 2023's Central District ensembles were held in late November. Before auditioning, the Groton students in attendance took a group photo: Eric Ge '24, Georgia Martin '24, and Matt Sennelius '25 holding violin cases, Brittany Deng '24 and Julie Xie '23 with their cellos, Alex Newman '25 and Amanda Chang '26 carrying woodwinds, Brenda Li '25, voice, myself with my viola, and Ms. Mary Ann Lanier, sporting a grin that I feared was a bit too cheery. And yet, a day after we auditioned, the results came via email: every Groton student who auditioned had gotten into Districts. It was a glorious comeback after three years of pandemic-suppressed musical events.
Rehearsals for the Central District concert were held during the second week of January. The orchestra played "Hoe-Down" from Aaron Copland's ballet Rodeo, Gustav Holst's A Somerset Rhapsody, and Stravinsky's Firebird Suite. We practiced for three hours and then broke for dinner before practicing for another three hours. We repeated this cycle over the course of three days. At the end of the last rehearsal, what had previously been a ragtag group of instrument-wielding high schoolers were now a harmonious orchestra. 
Finally, when the day of the concert came, the lot of us lined up outside the toaster on a frigid Saturday morning and drove to the Worcester Mechanics Hall, one of the oldest music halls in the country. 
The concert was a success. Jazz band performed first, followed by orchestra, followed by the choir. During the orchestra's performance, Alex blew a clarinet solo with a rapturous fade into silence, Amanda made her piccolo debut, and Eric led the second violins as assistant principal. 
Yet, this wasn't the end of Groton's musical endeavors. A week later were All-State auditions. The musicians who scored the highest in Districts qualify for All-States, an orchestra made up of Massachusetts' best musicians. All-States was much more competitive than Districts.  I remember palpably the way my palms sweated and how I stammered when talking to the judge. Scores came out two days later—out of the six Groton musicians who qualified for All-States, three made it in: Eric, Alex, and myself. 
All-State rehearsals are set to happen in early March, and conclude with a performance in the storied Symphony Hall. If you are in Boston right before spring break and happen to swing by Symphony Hall, take the time to read the posters pasted on the outside. They likely advertise world-famous soloists and conductors. Groton musicians are ascending the same stage that Seiji Ozawa, Itzhak Perlman, Lang Lang, and countless other legends have performed on. In the words of Alex, right before our District concert: "We actually sound sort of good."