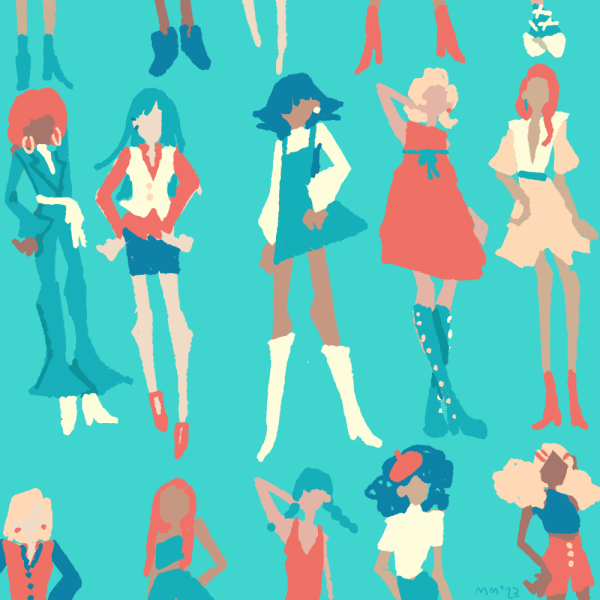 From September 26th to October 4th, the biannual Paris Fashion Week introduced the fall and winter collection pieces, which proved to be daring, adrift, and even sustainable. Unsurprisingly, the fashion industry is often detrimental to the environment. However, the designers recently have been more focused on implementing environmentally conscious materials. This year in particular, the fashion industrystrived to set environmental standards, especially after retracing the carbon emissions. According to The New York Times, an average New York Fashion Week emits 48,000 metric tons of carbon dioxide.
In front of the Pompidou Center in Paris, Stella McCartney surprised spectators with shoulder bags made from a grape-based alternative to leather. McCartney's "dirt to shirt" regenerative cotton tops, solvent-free crystal catsuit, and Frayme bags of mycelium–roots of fungi–introduced new ways to merge sustainability with fashion. Yet, McCartney directly expressed her desire for her sustainable aims not to be visually obvious: "If I'm doing my job right, you shouldn't see any of the sustainability." The designer hopes her collections convey that elegance does not have to be compromised when accommodating sustainable materials. 
Further, the crossover of Balmain and Evian Water was heavily emphasized at Paris Fashion Week. About half of the fine filament yarn dress, a product of their collaboration, was crafted with recycled plastic Evian bottles. Olivier Rousteing, the Balmain artistic director who constructed this dress, comments on his creation to inspire "inclusive runways that reflect the real beauty of our world and more sustainable materials that respect the need to preserve that incredible beauty." Acknowledging the previous harms inflicted by the fashion industry upon the environment, the designer infuses beauty with sustainability. 
By using the image of a whirlpool and experimenting with volumes and pleating techniques to replicate this, Rousteing was able to create a dress to elevate Balmain's collection. Then, with Balmain's substantial platform, the collection was able to raise awareness and encourage carbon neutrality. 
Innovative, sustainable pieces are now surging, since fashion is no longer solely centered on visual appeal. Of course, Fashion Week presented a unique piece that captivated the audience's eyes. Posing on stage among people with aerosol cans, supermodel Bella Hadid wore a white layer of spray-on fabric. This dress has gone viral on various social media platforms. Yet, the Fashion Week is also spotlighting the creations of the designers as well as their motivations. The clever approaches to promote the urgent need of saving the planet are the hidden highlights of this year's Paris Fashion Week.