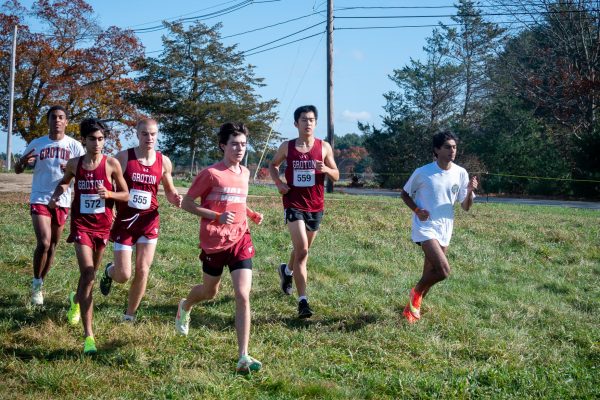 Despite a season riddled with numerous injuries and Covid leaves, the Groton boys cross countryBoys Cross Country team ended on a high note, placing second overall in both the Independent School League (ISL) and New England Championships. 
Leading up to the final weeks, the team faced tough losses against Belmont Hill, Roxbury Latin, and Nobles. With many of the top runners unable to compete, captains Vivan Das and Jack Lionette '23 expressed uncertainty that they would be able to challenge these schools again in ISLs. Regardless, on November 4th, the team surprised its opponents when they came second to Nobles by just five points—the team's best result in over a decade. The most notable results came from sophomores Chris Hovet and Ayur Vallecha '25, coming in fourth and 21st respectively. Hovet commented that ISLs was "exhilarating" and that "[we] managed to come out on top when it mattered." Teammate Damien West '26, a top JV runner, added that "ISL's was amazing and it felt great to compete and succeed since there was so much tension in the build up for it."
A core value of the team was the close-knit bond between all the runners. Das said that "Our team dynamic was strong this year… We were all very comfortable with each other, which helped not just in running our races together, but also in how we interacted in day-to-day practices." Hovet also reflected on the supportive team dynamic, saying, "We knew when to have fun and when to work hard. We competed with each other to push ourselves, but it never became bitter." Similarly, West commended their captains for being "great motivators" and making their season "challenging but rewarding".
The boys cross country team's rise to the top against all odds highlights the significance of teamwork and perseverance, especially considering the hardships that were hurled at them time and time again. Despite these challenges, the team was able to overcome adversity and achieve glowing results in the two biggest meets of the season. Vivan feels positive that next year's team will be able to take home the ISL championship, with a fast number one, Chris, and a strong foundation from the rising senior class: Ryder Cavanaugh, Jeremy Gall, and Eric Ge '24. The captain stated that he "feels confident about next year's team" and has "no doubt in their ability to challenge the top teams next year."