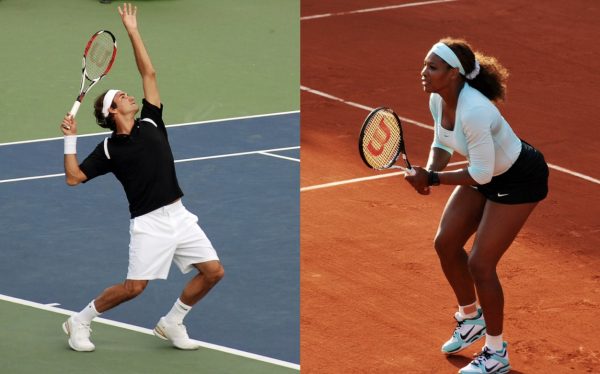 In the last few weeks, the tennis world has bid farewell to two of the all-time greats: Swiss Roger Federer and American Serena Williams. Federer, 41, and Williams, 40, have both decided to step away from the sport that they dominated for over two decades. These two names have been engraved onto the four Grand Slam trophies year after year for a total of 43 major championships. During their professional careers, they not only made a lasting impact on tennis fans across the globe, but also revolutionized the sport itself. 
Williams announced her retirement after the 2022 US Open. "I've been reluctant to admit that I have to move on from playing tennis," she wrote for Vogue magazine. "It's like a taboo topic. It comes up, and I start to cry."
On September 2, Williams lost in the third round of the US Open to Australian Ajla Tomljanović, but she refused to go down without a battle. The match lasted an epic 3 hours and 5 minutes, with Tomljanović edging on top to win 7-5, 6-7 (4), 6-1. Serena battled it out during the final minutes, saving 5 match points in the longest game of the match. Much to the crowd's disappointment, Tomljanović was finally able to win the sixth. Serena's post-match interview was 'a real tear-jerker,' and fans all across the world were quite emotional to see her go. Even Tomljanović, after facing a rowdy crowd, said "She's the greatest of all time. Period."
With 23 Grand Slams, 4 Olympic gold medals, and 319 weeks of ranking No. 1 under her belt, Serena has left her mark on womens' tennis and paved the way for the aspiring female players of the future. She will continue to be a great influence off the court.
Not long after Williams' announcement, Federer made his upcoming retirement public. On September 15, he wrote, "To my tennis family and beyond…The Laver Cup next week in London will be my final ATP event." Fans weren't exactly surprised, due to his recent injuries and growing age, but seeing his final match at the Laver Cup wasn't an easy sight. Roger joined up with longtime rival and close friend Rafael Nadal to play one last doubles match against Team World. The two led 9-8 in the deciding tiebreak, but ultimately lost the match 4-6, 7-6(2), (11-9) when American Jack Sock ripped a forehand winner down the line. Although not the ideal end, Roger wrapped up his career with a total of 20 Grand Slam titles, 310 weeks at No.1, and several Olympic medals–all astonishing feats. 
In his final post-match interview, Roger brought the crowd to tears. "I couldn't be happier. It's been wonderful," he said, while fighting back tears himself. Arguably the greatest men's player to have ever graced the sport, Roger has impacted the tennis world in an abundance of ways. An icon, a leader, and a gentleman, Roger will truly be missed.
Now that the two GOATS have retired from professional tennis, we wonder who will lead the next generation of WTA and ATP players.