So-Long to a Student Favorite: A Goodbye to Miss Colleen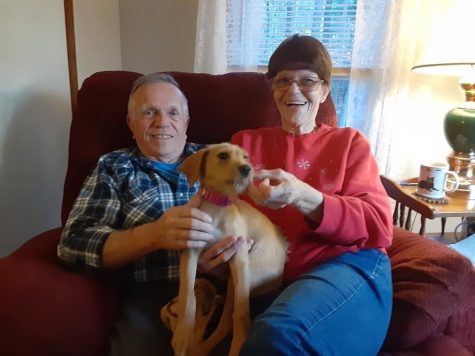 Walking into the servery after a long plus-thirty, smelling lunch as steam dances in the air, hearing Miss Colleen yelling across the dining hall to ask a student about their day—it's a feeling most of us know well. Unfortunately, at the conclusion of this school year, Colleen Davrieu will no longer be a staple of the dining hall when she retires after seven years of dedicated service to the community. 
As the Circle bids Miss Colleen farewell, a few students reflect on her presence in the dining hall. Robin Huntington '22 describes her as "one of the funniest people who I see on a daily basis," as she is always "joking and singing songs with other members of the Dining Hall staff." Another student appreciates that Miss Colleen "always ensures us athletes have enough to eat after a long, hard practice." Luckily for us, she will still pop in on occasion when the dining hall staff need an extra hand. To honor her, the Circle Voice decided to ask Colleen a few questions as a way to conclude her time at Groton.   
Favorite part of working here?
You guys. You guys are the best and my team is the best. The hours work extraordinarily for me. I love the hours. I love what I do. You know, it gets messy out here with the masks and stuff. But I love washing the tables, vacuuming, cleaning up after a disastrous meal time, and making it look all nice again for your next entrance for your next meal.
Favorite meal to serve? And favorite meal to eat?
Oh, it's got to be the chicken sandwich. That coated chicken sandwich, and the orange chicken. Yep. Chicken, chicken, chicken—I'm a chicken girl!
Funniest memories?
Your last day here—I can't wait—you get to get a pie in the face, a whipped cream pie. And just watching my former fellow coworkers get their pie in the face.
I'm gonna get two. I'm gonna get one on June 10th, the last day and I'm gonna get one on June 16th, the absolute last day for us because, you know, we'll come back and clean. I'm looking forward to it. I watched it happen so many times in my years here. I'm looking forward to having my turn. My supervisor says I'm crazy.
What will you miss the most? 
Oh, all of you, all of you, all the faculty, all the kids, all my staff, that, as I come in to visit and help out here and there, I will meet new staff, I'm sure […] You know, we're at the point now, where, now that you're serving yourselves, we're a little high on staff, we have a little too much. So they won't be replacing me. But I'm sure in time it will go down and we will have other new staff coming in. So I'm looking forward to meeting new staff on my side. 
What are you most excited about moving on to?
Just spending more time with my puppy and husband. We hike rail trails, we hike the fields and stuff. So I'm looking forward to spending so much time with them.
Leave a Comment