Teamwork and Integrity: How Groton Tennis Rose to the Top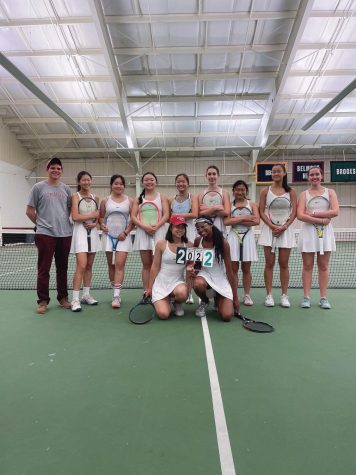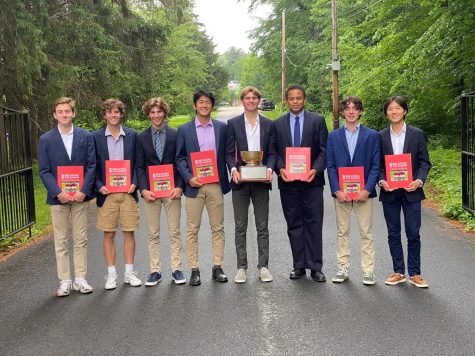 Perhaps the most distinguished teams on campus, Groton School's girls and boys tennis teams were strong competitors in the Independent School League (ISL) and the New England Preparatory School Athletic Council (NEPSAC). This journey began in the 1960s, when the ISL trophy was named after Groton's Varsity Boys coach Richard "Doc" Irons. Now, sixty years after Doc's coaching, the Groton Boys Varsity Tennis team continues to sweep the courts with a 100% win rate, being named the ISL champions and a close second at NEPSAC. The Girls Varsity Tennis team has been just as successful, sharing the title of ISL champions with Milton Academy and Nobles School, and making it to the semifinals of the NEPSAC Class A New England Championships.
Teamwork shines through as a core value for both tennis teams. Boys Varsity Tennis captain Jared Gura '22 said that "even though we're on different courts, we're all playing towards the same final goal." Girls' Varsity Tennis captains Amelia Lee '22 and Sobenna Egwuekwe '22 also highlighted the tight-knit bond and supportive dynamic between teammates. "We have team dinners almost every night, a great relationship with our coach Ryan, and support each other," Amelia said. Sobenna added, "It's less about where you are on the ladder, and more about building up a team that you want to see left behind." 
The weekend of May 22nd, the Girls Varsity Tennis team came close to being named New England Class A champions, losing in the semifinals to Deerfield Academy. Amelia said, "I'm really proud of the way we played…We stayed in it the whole time regardless of what challenges we faced."
Boys Varsity Tennis just fell short of claiming the title of NEPSAC Class A champions on May 22nd. During the singles one game, captain Larry Li '23 was down 14-15 in an eleven point tiebreaker when the opponent hit a ball that spectators were unsure whether to deem "in" or "out." Larry immediately called the ball in, saying that he "can't just make a bad call" in order to win. Teammate Will Vrattos '23 commented that Larry "lost by choosing not to cheat" and had wanted to "win the right way." The team's attitude of prioritizing sportsmanship over winning was reflected in Coach Conner's words: "Your instincts will carry you, and so will your team." 
The girls and boys tennis teams this season forged bonds that will transcend their years at Groton. As the seniors prepare to close this chapter of their lives, both coaches expressed immense gratitude for their contributions to the team. Coach Ryan stated, "I can't say enough about both of them, and I will deeply miss both Sobenna and Amelia." Coach Conner sent thanks to both captains for "not only setting high standards, but for also welcoming the new kids and creating a positive atmosphere for the whole team." Both tennis teams faced adversities head-on throughout the duration of this season, and Amelia reiterated that "every hurdle, every difficulty, and every loss is an opportunity to learn and come back stronger." This unfaltering sense of teamwork and integrity is at the root of Groton tennis teams, and it is what helps them rise above all competition as one of the most formidable teams in the ISL and NEPSAC.
Leave a Comment