Operation Revolving Door: Groton's New Covid-19 Plan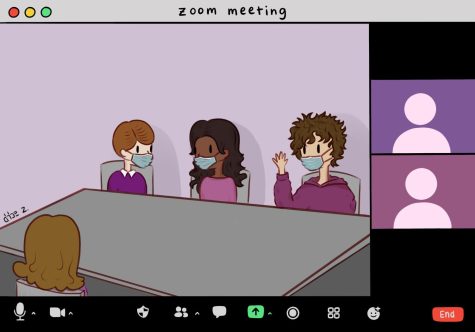 Since the Covid-19 situation has changed dramatically with the recent outbreak of the Omicron variant, Groton's administration has adjusted accordingly with an updated back-to-school plan. Given the highly transmissible nature ofOmicron that makes a zero-percent on-campus positivity rate difficult to maintain, the administration has now shifted focus to realistic goals of containment and supporting students both on and off campus.
Perhaps the most obvious evidence of a new reality induced by the recent variant were the noticeable student absences within the on-campus community. As the Health Center administered PCR tests every week, any positive students and close-contacts were efficiently moved off campus for quarantine. Limited capacity in the Health Center and the lack of a quarantine space on campus meant that students were sent home within 24 hours, where they completed classes virtually through a well-established hybrid class system, which Academic Dean Ms. Leggat credits to efforts around academic technology led by Mr. Battis. "Hybrid learning technology is not very intuitive," says Ms. Leggat, "and the tech department deserves praise and thanks for responding quickly to faculty needs and demands."
On the other end of the quarantining period, the Health Center has also been collaborating with the Athletic Training Office to ensure that students returning from a Covid-19 infection are properly supported. Per the American Academy of Pediatrics' guidelines for return-to-play, the Athletic Training Office has implemented a five-day program that ensures student athletes are not held back by long-term effects of Covid-19 infection when they re-engage in their winter activities.
These changes to the Health Center's plan are what Health Services director Ms. O'Neil-Britt likens to "managing the revolving door." When cases appeared within the student population, the Health Center had to take prompt action to contain the spread, while also keeping an eye on the status of quarantined students. "This challenge is no bigger than what we saw when we came in," says Ms. O'Neil-Britt, determined to keep on-campus cases under control. 
Another effort the Health Center has undertaken to contain the spread is administering an on-campus booster clinic. In collaboration with the McNabb Pharmacy, 88 members of the school community were vaccinated with the Pfizer booster shoton Jan. 8th before in-person learning began.
As cases in Massachusetts continue to decline, Associate Head of School Mr. Anderson remains hopeful that Groton will remain one step ahead of the curve. Since arrival testing was first administered on Jan. 6th, cases discovered on campus have dropped to 0% from the original 4.1% infection rate.
"We don't want to overreact or underreact. This is a time when we are trying to do what we can and see how it works out," says Mr. Anderson. With successful terms of in-person learning under the belt, the administration is well-equipped to overcome these challenging yet not unfamiliar circumstances.
Leave a Comment