Lyrics of a Story: The Convergence of Performance Art with Jazimina MacNeil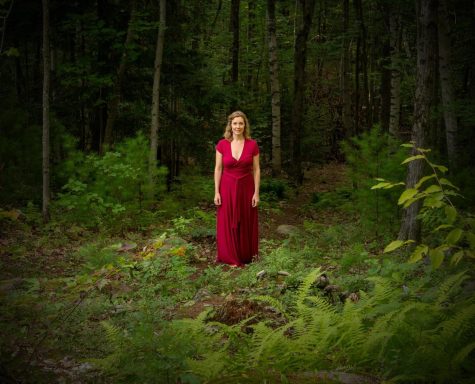 Although Groton's updated Covid-19 policy resulted in the cancellation of the Gammons concert Myth, Mourning, and Madness: An Afternoon of Songs and Stories featuring a fusion of folk songs and tales from western culture, the unconventional art form of blending song and story into an immersive experience continues to endure on the Circle through a member of Groton's very own music faculty: voice instructor and mezzo-soprano Jazimina MacNeil.
MacNeil, along with renowned storyteller Odds Bodkin and pianist Jenny Tang, had planned to organize a program integrating culturally rich narratives from Europe surrounding themes of death and grief. From a Latvian folk-tale about outwitting death to a selection of American folk tunes written by famous composer Aaron Copland, Groton students and faculty would have witnessed the fascinating exchange between MacNeil and Bodkin as they performed their respective crafts back-to-back. 
MacNeil is no newcomer to this unique approach in performance art. In fact, she and Bodkin had collaborated previously on Danika the Rose, a similar production which combined an original fairytale with Dvorak's Moravian Duets. The story of Danika, a beautiful peasant maiden stuck in a love triangle with a greedy duke and his gamekeeper, was born upon Bodkin's realization that Dvorak's lyrics already contained common themes of "the lovelorn maiden, roses, forbidding mothers, and dukes in towers." 
"It was a pretty fluid and organic process," MacNeil described. "Odds came up with the basic bones of the story, and he and I went back and forth to fill in all the colors." Bodkin's storytelling was intricately woven throughout the performance of the duets, in which MacNeil partnered with the distinguished soprano Sarah Shafer to create an exceptional listening experience.   
Danika the Rose premiered in 2019, two years after its conception in 2017. Exploring "an unshakeable kinship with the natural world, a courageous heroine, and love triumphant over greed," the program highlights relevant parallels of human psyche and environment within a romantic fantasy—challenging not only the limits of traditional art, but also the audience's outlook on reality. 
"In any good fairytale, there's room for people to find resonance in many different corners. With Danika, sometimes we make choices that we know in our heart are not right," MacNeil stated. "As long as we stay true to ourselves, we'll find a way through."
Although Myth, Mourning, and Madness will sadly not make its debut in Gammons, the Circle might have an opportunity to witness Danika the Rose live in May if Covid-19 policy allows. The production may potentially store some surprises catered towards Groton students and faculty. But as of now, it is encouraged to embrace the program and art form in spirit—or in song and story.
Leave a Comment