The 12-Team Playoff: College Football's Newest Bad Idea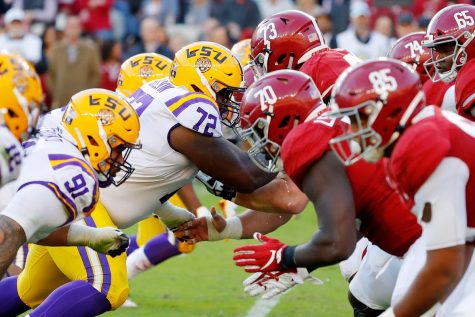 This June, the College Football Playoff (CFP) Board of Managers approved a summer study period devoted to assessing the practicality of a 12-team playoff bracket. 
While many fans of teams who feel they had been snubbed from the four-team field were excited by this possibility, the expansion of the CFP to 12 teams would do more harm than good for college football. It will not only make playoff games less competitive than they already are, but will also decrease the importance of both the regular season and bowl games.
In the CFP's seven years, all but one National Championship has been won by college football's three powerhouses of the playoff era: Alabama, Clemson, and Ohio State. These programs consistently bring in recruiting classes that finish at the top of the rankings, enabling them to be primary contenders for the championship every year. 
So, eight more teams in the CFP will allow for more championship contenders, right? Wrong. 
There are no signs of college football's blue-bloods going away, and so including teams for which the talent gap between them is even greater will only lead to more blowout games on what's supposed to be the most competitive stage in college football. 
A 12-team bracket would not only cause the playoffs to lose their competitive allure, but it would also affect the significance of bowl games and regular season games. One of the most appealing aspects of college football is that any squad that hopes to play for a championship has to either go undefeated or have only one loss, simply due to the few teams who make the playoffs. In the 12-game regular season, there's no margin for error, and both teams and fans treat every game like it will make or break their season. 
The conditions of every game, combined with the passion of college football fans, create stadium atmospheres that can't be found anywhere else in sports. If the number of spots in the playoffs is increased, the electricity of the regular season would fade away.
The consequences of a 12-team playoff also harm some of the greatest sports traditions, the New Year's Six bowl games, making them lost and irrelevant. Whether these games are kept as playoff semifinals, quarterfinals, or are left out of the championship-deciding process altogether, college football will lose the Rose, Sugar, and Orange Bowl matchups between certain conference champions, as well as numerous other iconic bowl games that both players and fans look forward to.
The 12-team CFP is years away and not certain to happen, but given the amount of support that the proposal garnered from fans, the CFP will likely expand in the foreseeable future, thus bringing about detrimental change to the college football world that we know and love.
Leave a Comment