GRAIN: Making the Groton Education Accessible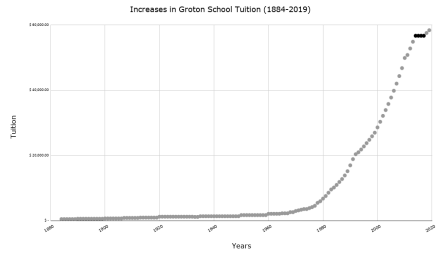 In the 2014-15 school year, Groton's tuition ranked the most expensive among 40 peer schools. Now, Groton's tuition is ranked 39 out of the same 40 due to GRAIN, the Groton Affordability and Inclusion initiative. 
Headmaster Temba Maqubela pushed for GRAIN upon his arrival to the Circle seven years ago. GRAIN froze tuition for three years, made Groton admissions need-blind and initiated the Inclusion Scholar program. After the freeze, it then allowed the school to slow the rate of tuition increase to around 1.5 percent (the equivalent of approximately $1,000) per year. During the first decade of the 2000s, the tuition increased by approximately 5.5 percent each year. 
In addition to its contributions towards lowered tuition, GRAIN has increased the number of students on financial aid from 139 students to 168, especially among those Mr. Maqubela has dubbed the "talented missing middle" –– students who are unable to qualify for traditional forms of aid but also unable to pay full tuition without financial stress. GRAIN has thus increased the total financial aid expenditure from $5.9 million to $6.9 million, according to Dean of Admission and Financial Aid Ian Gracey.
GRAIN's success can be traced back to an early initial gift of $5 million, which then spurred other donors to take action. According to Kate Machan, Head of GRAIN Operations and Special Assistant to the Headmaster, donors like giving to "an effort that has momentum" and getting behind what others are already supporting. These early donations have now also earned substantial interest, which continues to help fund GRAIN initiatives.
The initial goal for GRAIN, according to the Groton website, was to raise $50 million by 2020. In December of 2017, a gift pledged on Christmas day enabled GRAIN to reach the $50 million milestone almost two years ahead of the predicted timeline. Today, GRAIN boasts approximately $43 million in hand with an additional $10 million in pledges.
In order to pay for GRAIN, money is taken from the endowment, which contains all GRAIN funds as well as funds intended for more general purposes. Withdrawals from the endowment, often called the endowment draw, increased during the early years of GRAIN from its standard level of about 4 percent closer to 5 percent. Currently, the endowment draw stands at 4.5 percent, and plans anticipate that it will ultimately return to its original 4 percent. Ms. Machan added that Groton is historically conservative with its endowment draw, which has allowed Groton the flexibility to draw more for initiatives like GRAIN. 
Julie Dolan, Groton's Chief Financial Officer, explained that, at many peer schools, tuition increases at an equivalent rate as to expenses. However, GRAIN allows Groton's rate of expenses to grow at a greater rate than its rate of tuition increase. According to the 2018 Fall Quarterly, tuition currently covers only 60 percent of the costs per student. GRAIN therefore enables as many students as possible to gain access to a Groton education while Groton continues to improve alongside peer schools.
Notably, as the gap between the expenses tuition covers and the total costs of a Groton Education continues to increase, Groton relies heavily on continued fundraising and GRAIN funds to keep tuition increases low, explained Ms. Machan. Fortunately, according to Ms. Dolan, the approximately $53 million that has been raised through the GRAIN campaign is very sustainable. This is because the principal, or the $53 million invested, is never spent; instead, only the returns earned by that $53 million are spent. 
One surprising benefit of GRAIN is that it created a need to reevaluate some of the school's costs in order to close the gap between tuition and total expenses. More broadly, GRAIN has encouraged Groton to reprioritize its finances –– a process that is beneficial for any institution, said Ms. Machan. 
Based on its contribution towards the slowed rate of tuition increase as well as towards increased financial aid, GRAIN is widely considered to have been a successful endeavor. The initiative has firmly placed Groton at the forefront of affordability and inclusion among peer schools, according to Mr. Gracey.
Leave a Comment