Admissions Without Borders: Carolyn Chica's Outreach Initiatives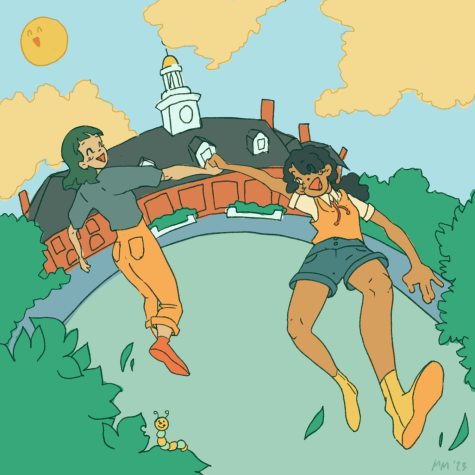 Every year, the Admissions Office welcomes a new set of bright, motivated students to the Circle. Hailing from both local and international backgrounds, newly admitted students add vitality and diversity to the existing student body. One of the key members of this operation is Associate Director of Admission Carolyn Chica, who uses many different strategies to attract the best of the world to Farmers Row.
In her additional capacity as the Director of Inclusion Outreach, Ms. Chica gave virtual presentations to faculty members at different schools on the significance of recommendation letters in the application process. Two of the places Ms. Chica engaged were a public school in Lawrence, Massachusetts and a private boarding school for low-income families in Trenton, New Jersey. 
She also co-directed workshops in Spanish with peer boarding schools' admissions counselors to introduce the boarding school experience to communities that are not familiar with prep schools. 
Ms. Chica continued her coordination with non-profit foundations like SEED, A Better Chance, and The Wight Foundation to help talented students from diverse backgrounds navigate the boarding school process. Nicolas Salazar '24, a New Jersey SEED scholar, spoke of the important role that Ms. Chica played in convincing him to apply to Groton: "The SEED program took us to a fair where many boarding and private day schools had tables. When I got to the Groton table and found out that Ms. Chica was Colombian just like me, it gave me confidence that I could belong at Groton. Her ability to speak in Spanish with my parents reassured them and helped give Groton a welcoming image."
But Ms. Chica's passion for inclusion doesn't end there — she ensures that "students have someone to talk to and look out for them even after they get in." Nicolas said, "I am very appreciative of Ms. Chica for making sure that I am OK and taking time out of her day to talk to me whenever she sees me."
Although many in-person events turned virtual because of social distancing measures, one of the in-person events that Ms. Chica cherished the most was doing mock interviews for students at Beacon Academy, a program between 8th and 9th grade that prepares urban students for success in high school. "Students at Beacon got to experience what a boarding school interview is like without the pressure, and gained a lot of confidence in their speaking skills," Ms. Chica explained. She also used an interesting tactic to get students to understand what it is like to interview someone: "I mock interviewed them for five to ten minutes and then switched the roles. I became the student and the student interviewed me and got to see what an admissions counselor is looking for in students' responses." She noted, "Applicants don't realize how great their stories are, and the purpose of me doing the mocks was to get them to recognize specific elements of their character that they can talk about."
Ms. Chica looks forward to continuing her outreach initiatives, and attracting the best and the brightest from all over the world to Massachusetts.
Leave a Comment