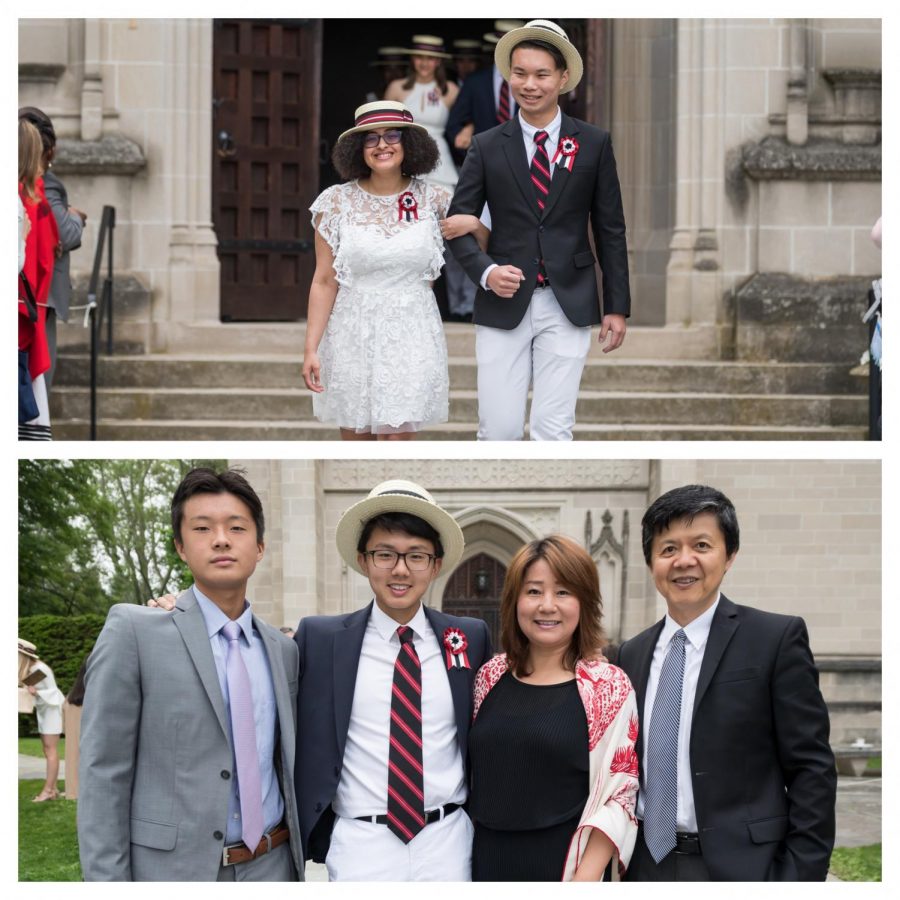 Alan Richins
"Dear Groton Parents and Guardians," the letter began, "As you are no doubt aware, world health experts have been working to contain the transmission of a novel strain of coronavirus… Groton School is monitoring the situation closely."
Headmaster Temba Maqubela and school physician Sophie Allende-Richter sent the letter above on February 1, emphasizing that the risk to campus is very low. Visitors with symptoms and a recent history of travel from Wuhan, China (or contact with such an individual) were asked to seek medical attention and stay off campus; community members were asked to take basic preventative measures as they would for the flu, like swapping elbow bumps for handshakes at check-in.
But the biggest impact of the coronavirus on the Groton community is not its potential spread to the Circle; it's how it affects students' families and alumni's college experiences.
"I first learned about the outbreak from my mom, who had texted me about what was going on in China," said Christina Chen '23. She added that, once she saw more data on how contagious the virus is, she began to worry more about the situation in China. Christina said she is thankful that her family is no longer in Shanghai.
However, as doctors have determined that young children, the elderly and those with immunodeficiencies are the most vulnerable, many students are mostly concerned for their elder relatives: Janice Zhai '21, who lives in Hong Kong, and Phoebe Shi '19, a freshman at the Massachusetts Institute of Technology who lives in northern China, both said they are most concerned for their grandparents.
"I am only really worried about my grandparents… My grandmother had breast cancer and has high blood pressure and my grandfather is just very old, so I'm only truly worried about them," Janice said.
Phoebe added, "I became more and more worried about the safety of my family members, especially my two elderly grandmothers. However, because we live in the north, it is not as intense… All my family has to do is stay indoors and wash their hands frequently."
Christina noted that, while she is worried about how contagious the virus is, "I feel like the largest impact that it has is on the psychology of people who are hearing about it, since it is quite dramatic."
Elbereth Chen '21 agreed with Christina –– "seeing so many people not dealing with the outbreak intelligently and calmly worries me even more" –– but also noted that her family is not worried about the outbreak, despite living in a city with multiple confirmed cases.
"They are not worried and they mostly go about their day as usual… When they need to go outside they wear masks," Elbereth said.
Ultimately, Elbereth explained her primary concerns at this time are not health-based; she is most worried about how the virus will affect her ability to travel home. She believes that, if she takes the precautions her parents have already adopted, she will not be infected; however, she does not know if she would be allowed to return to the States or to school if she does decide to return home for spring break. Currently, the US government has issued the maximum level four travel advisory asking people not to travel at all to China. Flights from mainland China are still landing at 11 airports, but foreign nationals who have been in China for the past two weeks are banned.
Besides Chinese students and alumni worrying about family back home or their fluctuating travel plans, many alumni attending college in China have found themselves scrambling to adapt their semesters. 
Dashy Rodriguez '19 is a freshman at New York University Shanghai (NYUSH), but she is currently taking classes at NYU in New York City. NYUSH delayed the start of classes twice but ultimately decided to close for the spring term. NYUSH students will study at other NYU campuses; the only courses NYUSH will offer are online.
"It's just all really overwhelming and such an adjustment," Dashy said. "The environment at NYU is so different from NYUSH, but everything just takes time, you know?"
Aaron Jin '19, a freshman at Tsinghua University in Beijing, is also redoing his schedule. Like NYUSH, Tsinghua has switched to online classes, closing down the campus and delaying the start of the spring semester indefinitely. Aaron is at home, in Groton, as he waits for more news. While they are worried about the epidemic, the Jins are thankful for its timing as it allowed Aaron to travel home safely over Christmas break.
"When I left China for break, I had heard some people start talking about a virus going on around Wuhan, but it didn't seem to be anything serious, since we also had rumors going on about the black plague a few months earlier… I was glad to have left before it became a serious problem," Aaron said.
Aaron's mother, Chinese teacher Shannon Jin, said she supports Tsinghua's decision. In the meantime, she believes that "the only thing we can do is protect ourselves, and I know China is doing so much to try and control it right now." 
"Do I become panicked or scared or go about my normal life?" Mrs. Jin asked rhetorically. "Life just has to continue."