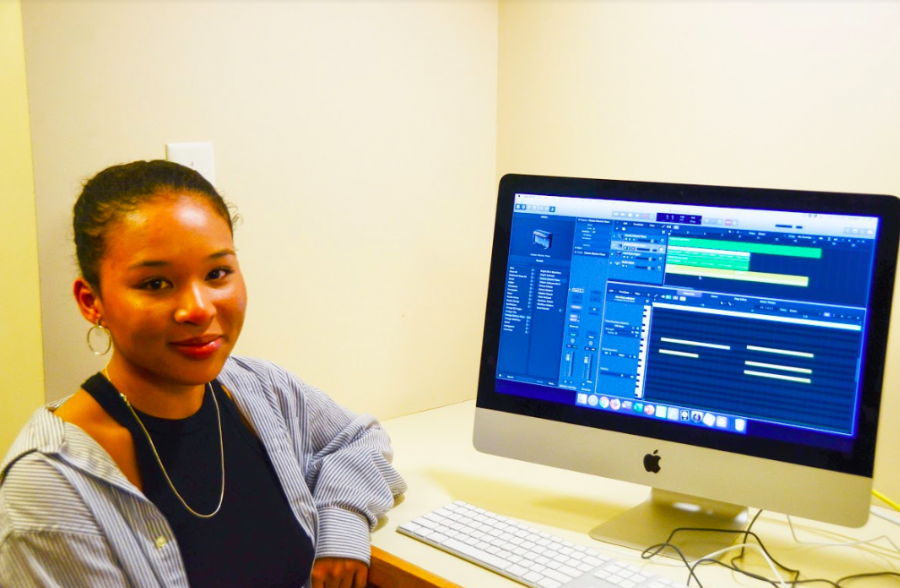 Courtesy of Johnny Fan '22
You've listened to her songs on Spotify. Under the name Ai Bendr –– inspired by her middle name, Ai Bendors –– Chioma Ilozor '20 has dropped many catchy singles, such as "Stay With Me," "blue skies," and "Boy." In addition, Chioma sings at many Open Mics and for many postludes. When she sings, she captivates her audience with her rich, hypnotic voice. 
As she discussed in her Chapel Talk on February 25, music is central to Chioma's life: "Whenever I sing, play, or write music, I feel happy… The moments when I played music are the moments when nothing bad [can] get to me."  She uses music to overcome grief and turns sadness into "something more beautiful."
Chioma started writing songs for fun at a young age, but when she entered high school, she began keeping a journal of all her lyrics and taking her music more seriously. Her feelings have guided her songwriting, and she wants her listeners to feel what she wants to convey.  
For example, the heartache Chioma experienced from not wanting seniors to leave on Prize Day last year inspired her to write one of the first songs she released, "Stay With Me." But Chioma doesn't only write and sing—she also produces. For her, "every song needs a deep bass and a good beat." She achieves these two things with bass guitar instruments and drum sets, of which her favorite is the Boutique 808. Chioma considers her style "a mix between pop, indie, R&B, and sometimes alternative."
The past year has been exciting for Chioma as she has finally put her songs out in the public.  In 2019, her fans on Spotify streamed her music for a total of 366 hours and in 37 different countries, and five people listened to her more than any other artist.  
She also recently joined the Olympic Music Group, a small collaborative group that found –– and loves –– her music. Through the group, Chioma has been able to connect with producers who can perfect her songs, people she can write for, and labels that may work with her in the future.
Although she is still new to the group and figuring things out, Chioma said, "the Olympic Music Group has really helped me expand my reach from just the Groton community."  
For example, her song "Boy" was played at a cafe recently, likely due to a promotion organized by the group.
"My entire experience thus far as Ai Bendr," Chioma reflected, "has been so much greater than I ever imagined." 
Chioma loves the process of writing a song, producing it, designing an album cover, and then releasing it for the world to enjoy. Her dream future is to "become Ai Bendr for real, and to write and produce songs and perform them for whoever wants to hear them."
Students at Groton have really enjoyed Chioma's music. Josh Guo '20 said, "The most unique part about Chioma's voice is her versatility.  Her voice has a beautiful, distinctive tone that she can effortlessly manipulate to be soft and vulnerable, or powerful and emotional." 
Groton alum Gloria Hui '19, who has collaborated with Chioma, likes the "intimate feel" of Chioma's songs and how she plays with different human sounds as she produces.  
We can expect to hear more of Chioma's music in the coming month. "Ever since the college process has slowed down," Chioma explained, "I've been writing a lot more and producing a lot more." She has recently finished the first draft of a couple of songs that just need some perfecting before release. 
She doesn't plan to stop making music anytime soon. "It's something I dream of doing for the rest of my life," said Chioma.