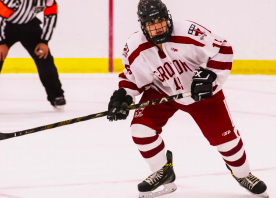 Luke Beckstein '20
When Captain Luke Beckstein '20 steps onto the ice, adrenaline runs through his veins and he relentlessly works to put the puck into the back of the net. Unsurprisingly, he's been named captain for the 2019-2020 hockey season. In addition to leading the hockey team, Luke was also named captain for the upcoming baseball season and is committed to Kansas State for baseball. As Luke heads into his final Groton hockey season, he hopes to have some fun and, of course, pull out one more St. Mark's win. 
How long have you been playing hockey? Who taught you how to play?
L: I've been playing hockey since I was 5.
At first, I learned on my own. I would watch the Boston Bruins games with my dad and see what the professional players did. But if there was a specific coach that taught me a lot as a player growing up, it was Coach Bunyon, who coached me until high school. In high school, Coach Riley and Coach Leroy both helped me adjust and improve my game for prep school hockey. These three coaches have helped me a great deal, and I want to thank them for all they have done for me.
Is your family a "big hockey family?"
My family is not a big hockey family. I was the first person in my family to ever lace up the skates. My mom didn't want me to play at first because she was scared of me getting hit, so I had to beg her to let me play.
 What do you like about hockey?
I love the atmosphere and energy. You can go out and hit someone as hard as you can and not get in trouble while you try to score on a net using a stick and a rubber saucer.
What position do you play?
I play forward. The past two years I have been playing center specifically.
What is your best quality on the ice?
I'd like to say I'm a playmaker. I try to set my teammates up for opportunities but I'm not afraid to rip a shot.
What is your favorite hockey memory at Groton?
In my third form year, Hartikainen Santeri (then a fifth former) scored with almost no time left on the clock and we beat St. Mark's in overtime on St. Mark's Day. We created a huge dog pile and then jumped on the boards and high-fived our friends in the stands. I'll never forget that moment.
What is your favorite hockey team?
The Boston Bruins. Though Will Molson '21 is trying to convince me to go to the dark side and become a Canadians fan.
How is the team looking this season?
We have a lot of potential. Our defense is solid and teams are going to have a tough time getting by them. We graduated three very good forwards last year but got in some new guys that definitely can make an impact. I'm happy with the returning forwards we have as well because I know they can step up and produce the numbers we need. We should have another great season if everyone does their job.
Congrats on Kansas State! What made you choose it?
There were a lot of factors that went into my decision. When I went on my visit it felt like home. The coaches are all great guys and I can't wait to get working with them. The head coach is from Massachusetts so I felt a connection there. 
Kansas State is in the Big 12, and growing up I had always dreamed of playing against the best teams and players in the country. The Big 12 is arguably the best league because it consistently ranks many schools in the top 25 and has tons of players drafted every year. Five Big 12 players were drafted in the first round last year if that puts things into perspective. 
Kansas State has a community, coaching staff, and league that all can help me achieve my goals so I felt it was the right decision for me to become a Wildcat.
What do you like most about baseball?
I love the idea that you never know what's going to happen. There are so many things that can go wrong and go right. You need to be engaged every second because the ball may be hit to you or thrown to you. It's a mental game, unlike hockey. The failure rate is so much higher than the success rate so you need to learn to have a short memory and move on. There are so many things I love about baseball, and I could go on about it forever.
What are you most excited about next year at K State?
I can't wait to meet all my teammates. Everyone has different stories, and I want to learn about the guys I'm going to be competing and trying to win a championship with.
 What do you like most about sports?
Competing. There has always been something about wanting to beat someone or a team that just gets me going. I love the competition and find myself inadvertently competing with others.
How do you lead the teams you are on?
I find leading by example the best way to get people going. I want to out-work and out-compete everyone I go against and a lot of times if I show my teammates how much I'm willing to give, they will give the same for the team.